The iShares U.S. Real Estate ETF (NYSEARCA:IYR) spent most of the session gathering up enough steam to push for a test of the trend-line (as shown below).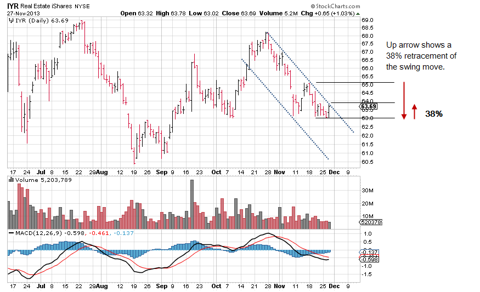 Charts by StockCharts.com
It is interesting to note that a 38% retracement from the 65.10 pivot-high set on 11/14/13, to the 63.02, low set at this session is in the area of 63.79.
The IYR reached a high during this session of 63.78 and closed the day at 63.69
So while this move may look as if IYR is heading higher, it can be classified (at this juncture) as a weak retracement of the swing move from the 11/14/13, high to the 11/27/13, low.
Summing it all up:
We have a trendline test that has held thus far. Holiday trading weeks are generally positively biased. The S&P 500 closed at its highest level ever and the IYR is only able to manage a weak 38% Fibonacci retracement.
In our view, the above dynamics would indicate continued down-side probability.
As a side note, our entry at the pivot high on 11/14/13, was also during a 38% retracement of the 68.25, high to the 63.13 low.
The markets are fractal in nature and at this point IYR is exhibiting fractal retracements of 38% (indicating weakness) as it progresses lower.
As always, it could all change at the next session.
We are long the DirexionShares U.S. Daily Real Estate Bear 3X Shares ETF (NYSEARCA:DRV) with a stop at 60.67.
Disclaimer:
This report is for discussion purposes and contains our opinions only. This posting is to publicly document our thinking and market analysis actions within the Three Ten Trading entity. The data was obtained from sources believed to be reliable. However, we make no guarantee as to the accuracy of that data.
Investing or trading in equities, futures or options may result in a significant loss of capital, total loss of capital or a loss greater than available capital.
We are not advocating any stock or in any way offering portfolio management advice or stock selection service.
Respectfully,
Paul Mosgovoy, President: Three Ten Trading, LLC
Thank you for reading.
Disclosure: I am long DRV.