The iShares U.S. Real Estate ETF (NYSEARCA:IYR) opened gap-lower and then promptly recovered to reach the underside of the break (the 63.00 area) initiated two sessions prior.
The action for this session can be classified as one of three events: Reversal, short-covering or an underside test of the breakdown.
If we are in a reversal, then today's high will be breached to the up-side at some time in the following sessions.
If this was short-covering, then we can expect a swift collapse of price action.
If this is a test of the support-now-resistance that does not fail, then price action will retreat to lower levels.
With all of the above in mind, two stop locations for our short position have been identified below: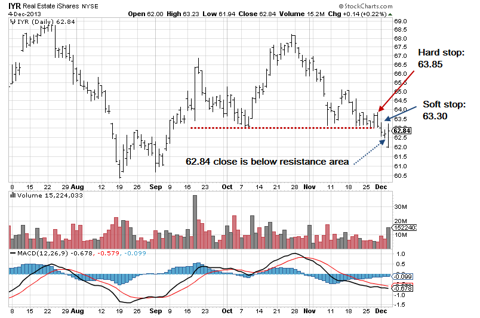 Charts by StockCharts.com
The two stop locations are labeled as a hard stop and a soft stop.
The soft stop is discretionary. If this area is breached in subsequent sessions, there may be an exit. A determination will need to be made based on price action.
With the hard stop, there is no discretion. If this area is breached the short will be covered.
Usually, at critical junctures (like this one), video is taken of the tape during the last fifteen minutes to half-hour of trading.
This information can then be analyzed off-line, share-by-share. Just from glancing at the video of today's session, IYR appears to be at a juncture of some importance. In the last five minutes of trading the volume of selling far outweighed the buying by around 9:1.
Even though the daily bar shows a reversal, price action declined into the close on very heavy volume. The down trend-line remains intact and IYR did not close back into its previous range of 63.00-or-higher.
We are maintaining our short position in IYR via a long position in the DirexionShares U.S. Daily Real Estate Bear 3X Shares (NYSEARCA:DRV) with a stop in the area of 62.60.
Disclaimer:
This report is for discussion purposes and contains our opinions only. This posting is to publicly document our thinking and market analysis actions within the Three Ten Trading entity. The data was obtained from sources believed to be reliable. However, we make no guarantee as to the accuracy of that data.
Investing or trading in equities, futures or options may result in a significant loss of capital, total loss of capital or a loss greater than available capital.
We are not advocating any stock or in any way offering portfolio management advice or stock selection service.
Respectfully,
Paul Mosgovoy, President: Three Ten Trading, LLC
Thank you for reading.
Disclosure: I am long DRV.