There has been excellent work done by others on Seeking Alpha concerning research and analysis of the gold/silver mining sector.
From that research it is a reasonable conclusion to say that Agnico-Eagle Mines Limited (NYSE:AEM) is one of the best managed miners if not the best.
Like the rest of the gold/silver mining sector, AEM has been under pressure for some time and as the end of the year approaches, tax-loss selling opportunities may be present.
However, in the case of AEM the low for the year may already be past. AEM had a multi-year low in October. The price action since that time does not indicate a high probability of continued lower prices as we head into the middle and end of December.
After the October low, AEM moved sharply higher and has been correcting since that time. As a result of today's price action, the corrective move may be over.
Note how AEM is holding above the 25.00 - level and that when viewed on the weekly chart has made very little progress posting lower lows for the past three weeks.
AEM appears to be testing the October low and that low is holding.
Making an entry here (as we have) represents a low-risk trade. Our soft-stop is very tight at the low of today's session 25.55.
The hard stop is located at the low of the previous session: 25.34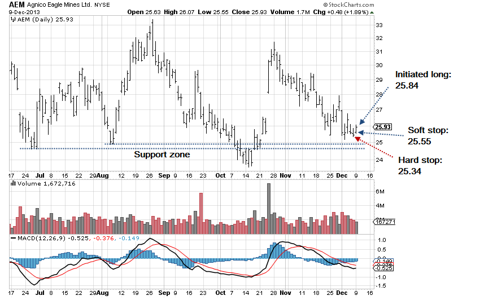 Charts by StockCharts.com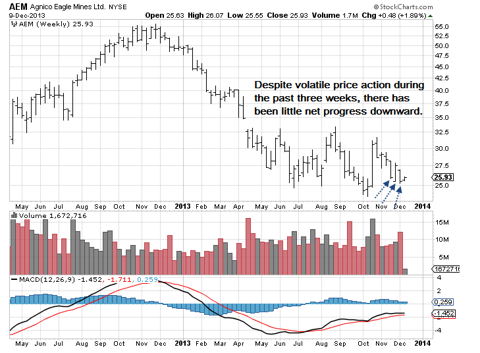 We are long AEM with a stop in the range of 25.34 - 25.55
Disclaimer:
This report is for discussion purposes and contains our opinions only. This posting is to publicly document our thinking and market analysis actions within the Three Ten Trading entity. The data was obtained from sources believed to be reliable. However, we make no guarantee as to the accuracy of that data.
Investing or trading in equities, futures or options may result in a significant loss of capital, total loss of capital or a loss greater than available capital.
We are not advocating any stock or in any way offering portfolio management advice or stock selection service.
Respectfully,
Paul Mosgovoy, President: Three Ten Trading, LLC
Thank you for reading.
Disclosure: I am long AEM.