Pulling back to the weekly time-frame on the iShares U.S. Real Estate ETF (NYSEARCA:IYR), we see another opportunity for a short position.
Noting that the Fed announcement scheduled for 2:00 p.m. Eastern Time (tomorrow, Wednesday) may create volatility, one may or may not want to position short prior to the meeting.
Just as a side note and after observing market action for years during Fed announcements, there tends to be a "head-fake" move during the announcement and then typically five or ten minutes later, the real move gets started.
Then there are times where the market just oscillates and creates no real direction. This time is probably not one of those as the S&P is at record levels and hanging on every Fed word.
Real Estate has not behaved as has the rest of the market. Real Estate never recovered from the 2005 peak and the ensuring 2008 market melt-down. When interest rates start rising in earnest...... Real Estate may be one of the areas hardest hit (again).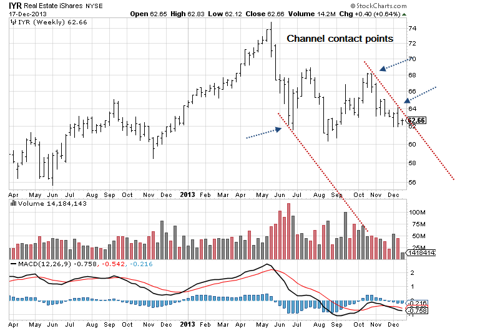 Charts by StockCharts.com
The bond market ended its 32-year bull market in the summer of 2012 and rates have been increasing since then. Take a look at a weekly chart of ProShares UltraShort 20+ Year Treasury ETF (NYSEARCA:TBT). Rates are up and continuing up. However, the "real" move has not hit....yet.
Looking at the weekly chart of IYR, it shows there is an excellent and decisive confirmation of the right down-trend line. Making a copy of the trend line and moving it over to construct a channel gives the chart a look that appears correct.
We are short IYR via a long in the DirexionShares U.S. Daily Real Estate Bear 3X ETF (NYSEARCA:DRV) with a stop in the area of 65.00
Disclaimer:
This report is for discussion purposes and contains our opinions only. This posting is to publicly document our thinking and market analysis actions within the Three Ten Trading entity. The data was obtained from sources believed to be reliable. However, we make no guarantee as to the accuracy of that data.
Investing or trading in equities, futures or options may result in a significant loss of capital, total loss of capital or a loss greater than available capital.
We are not advocating any stock or in any way offering portfolio management advice or stock selection service.
Respectfully,
Paul Mosgovoy, President: Three Ten Trading, LLC
Thank you for reading.
Disclosure: I am long DRV.