Before we discuss today's market action in the iShares U.S. Real Estate ETF (NYSEARCA:IYR), let us first pose the following question:
Given the daily chart below (index to be revealed farther down) and the decidedly up day on heavy volume that it shows.... also closing near the high, would you go long?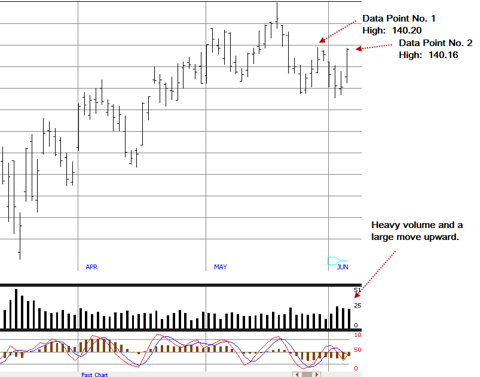 Charts by Telechart Worden Brothers
As an answer to the above chart, it is important to know where you are in the market action. The key elements of the chart are listed. Point No. 1, is the previous week's high at 140.20. Data Point No. 2, is the current session high of 140.16.
The chart appears to be in an up-trend of sorts, but still has a spike that occurred thirteen sessions prior.
Now, let's take a look from another perspective...... as in what happened next: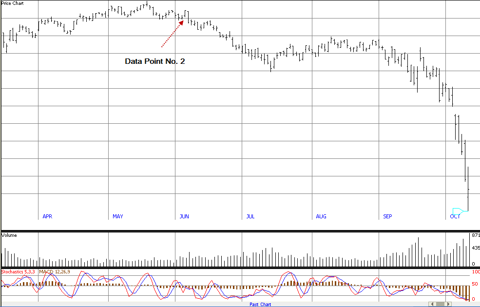 Charts by Telechart Worden Brothers
Data Point No. 2 on the chart was essentially a short-covering day and the beginning of the overall S&P 500 market meltdown that took place in 2008. This is what short-covering looks like. After the covering is over, there is an immediate retracement of the prior move.
Now, back to today. The similarities are there. The IYR peaked in May of this year and has been working lower.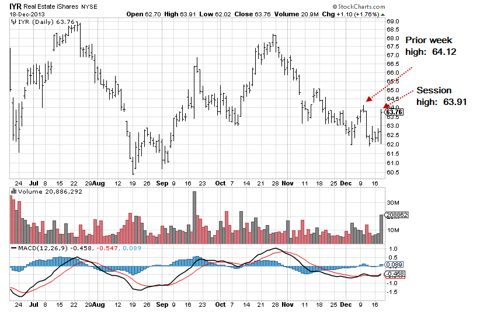 Charts by StockCharts.com
Today was a significant up day on heavy volume. Today did not breach the prior weeks high at 64.12.
If what we have seen is indeed short covering, there should be no question at the next session. If IYR hesitates and hovers near the previous high (for a day or so), then the move was not short covering and the trade will be closed.
Our overall premise is that the bull market from 2009-to-present is potentially over. Something else is happening. A major move downward, an extended move sideways (trading range), but something different than an up-trend.
IYR is interest rate sensitive and from our previous update, the bond market finished its 32-year bull run in July of 2012. Interest rates have moved higher from there.
Real Estate has diverged since May of this year while the other indices have continued to move higher giving the impression that we are still in a bull run.
Interest rates are moving up no mater what policies are implemented.
This short trade may not work out.... and we will find out soon. No matter what happens, it does not change the overall assessment (until proven otherwise) that the bull run is in its final stages.
Disclaimer:
This report is for discussion purposes and contains our opinions only. This posting is to publicly document our thinking and market analysis actions within the Three Ten Trading entity. The data was obtained from sources believed to be reliable. However, we make no guarantee as to the accuracy of that data.
Investing or trading in equities, futures or options may result in a significant loss of capital, total loss of capital or a loss greater than available capital.
We are not advocating any stock or in any way offering portfolio management advice or stock selection service.
Respectfully,
Paul Mosgovoy, President: Three Ten Trading, LLC
Thank you for reading.
Disclosure: I am long DRV.