As discussed in the previous post, if what was being presented with the iShares U.S. Real Estate EFT (NYSEARCA:IYR) was short covering (using the S&P 500 from 2008 as an example), then we should see a decisive and immediate reversal of the prior session's action.
While the previous session's move was not entirely retraced as was seen in the S&P 500 example, we did see an immediate sell-off to a 62% retracement within the first hour of trading.
An immediate, deep retracement with price action hugging the lows the rest of the day is not a sign of strength.
The fact that the price action did not continue higher on such heavy prior-day volume and immediately posted a deep retracement with minimal upward moves thereafter, adds to the analysis that the channel as shown in this report is intact and that the trend is down.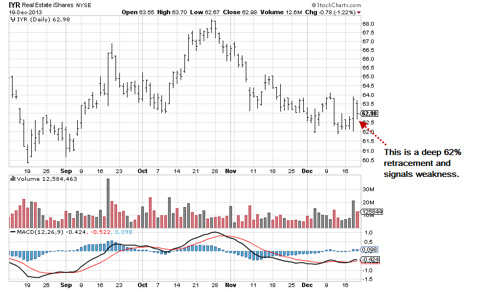 Charts by StockCharts.com
As stated previously, interest rates are rising. Taking a look at the ProShares UltraShort 20+ Year Treasury ETF (NYSEARCA:TBT) below shows an unmistakable upward trend in interest rates.
All that is missing from this chart is a "surprise" breakout to the upside.
We are maintaining our short position in IYR and have a stop in the area of 63.70.
Disclaimer:
This report is for discussion purposes and contains our opinions only. This posting is to publicly document our thinking and market analysis actions within the Three Ten Trading entity. The data was obtained from sources believed to be reliable. However, we make no guarantee as to the accuracy of that data.
Investing or trading in equities, futures or options may result in a significant loss of capital, total loss of capital or a loss greater than available capital.
We are not advocating any stock or in any way offering portfolio management advice or stock selection service.
Respectfully,
Paul Mosgovoy, President: Three Ten Trading, LLC
Thank you for reading.
Disclosure: I am long DRV.