The morning's session began with Randgold Resources Limited (NASDAQ:GOLD) opening gap-higher.
The previous report on GOLD indicated that our expectation was for an impulsive move higher. Thus far, that is what is taking place.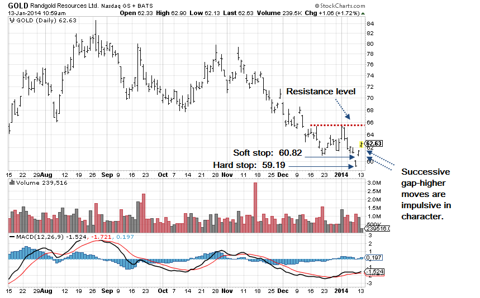 Charts by StockCharts.com
We may see successive higher lows until the first area of resistance is encountered at 65.30.
Our hard-stop remains at 59.19 and we now have a soft-stop at 60.82.
The probability is that neither stop will be threatened. However, there is still the possibility of a price spike to the down-side (a test), just to keep everyone a little on edge.
Disclaimer:
This report is for discussion purposes and contains our opinions only.
This posting is to publicly document our thinking and market analysis actions within the Three Ten Trading entity. The data was obtained from sources believed to be reliable. However, we make no guarantee as to the accuracy of that data.
Investing or trading in equities, futures or options may result in a significant loss of capital, total loss of capital or a loss greater than available capital.
We are not advocating any stock or in any way offering portfolio management advice or stock selection service.
Respectfully,
Paul Mosgovoy, President: Three Ten Trading, LLC
Thank you for reading.
Disclosure: I am long GOLD, .