The Battlefield Victor report showed that Randgold Resources Limited (NASDAQ:GOLD) was the only senior miner that was currently in a bullish configuration.
In addition, the report showed that the price action of GOLD was exhibiting buoyancy vs. the next best selection, Yamana Gold (NYSE:AUY).
We can see from the chart below, that GOLD did not wait around after the reversal. After the "test" which was previously forecasted, there were six successive gap-higher openings.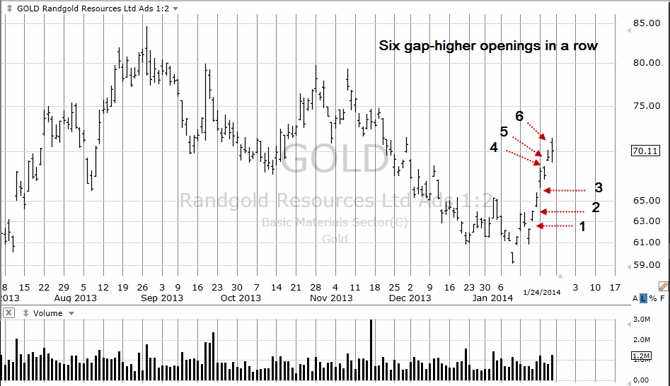 Charts by TeleChart
What happens now is our next focus.
From here, GOLD may continue immediately on higher into the top of the trading range at the 80.00 - level.
It may also begin to form a trading range at this point. The increased volume from the Friday session points to the probability of establishing a trading range.
The daily chart below shows two possible scenarios. As always, there are an infinite number of scenarios that can take place. However, markets tend to repeat past actions and therefore, unless the move continues higher from here unabated, the next likely scenario is the establishment of a trading range or some kind of retracement.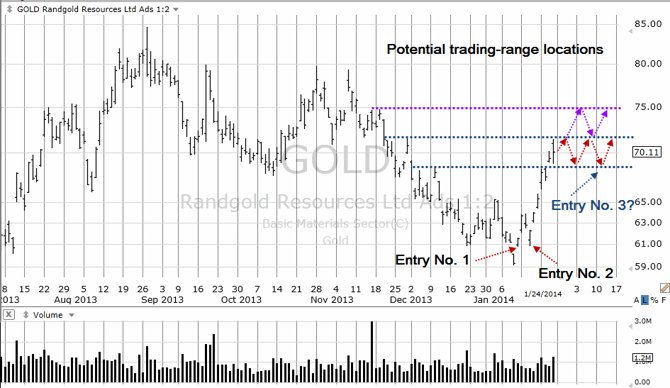 Charts by TeleChart
Our company profile indicates that we are using trading techniques from three masters: Livermore, Wyckoff and Loeb. Some of these techniques are over one-hundred years old. From our entries and the subsequent chart action, it appears that using their method(s) have proven to be quite useful in the analysis of GOLD.
Disclosure: I am long GOLD.