Those that have entered late on Randgold Resources Limited (NASDAQ:GOLD) may be shaken out of their position.
There is a potential here for price action to set up to penetrate support in the 67.00 - 67.50 area.
Those that bought on the earnings release news (yesterday) of increased production are now in the red. A paper loss is a real loss.
Just to repeat our own (Three Ten Trading) criteria for entering a trade: The entry must be profitable by the close of the session. Taking a look at our past two entries, one can see that they were indeed in the green at the close.
This allows us to sit-tight and assess the market from a position of profitability while it goes through its inevitable corrections.
If we had entered yesterday, that obviously would not be the case and most likely the trade would have been exited today.
Continuing our theme that the reversal in GOLD is the beginning of a major long-term move (as evidenced by the out-side-up reversal on the monthly chart), then the professional traders may or may not be fully positioned.
Over the past month, they (the pros) have had excellent indications of demand with GOLD being the most buoyant of all the senior miners. The technical analysis of GOLD, showing it superior to the rest of the senior miners was highlighted in the Battlefield Victor report.
A push into the 67.00 - area would effectively clean out stops that have accumulated over the past month as traders have used trailing stops (or set stops below support) to protect their trades.
While the professionals have their stops at fixed locations or are moving them higher, the amateurs are now in the process of moving their stops lower, having entered poorly.
The hourly chart of GOLD below, shows a potential scenario: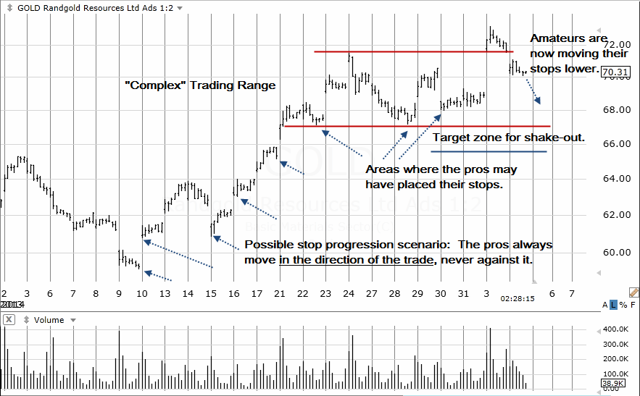 Charts by TeleChart
All of this movement adds to a convergence of stops below current levels and the market is obviously obliged to fill those orders.
The push below support may or may not happen but positioning for a possible long-term move is a chess game. We need to be prepared in advance to an upcoming opportunity. There are an infinite number of scenarios at work and at this time, a penetration of support appears to be one of several probabilities.
Another supporting factor for a push below 67.00 is that the resistance (now support) that was established in that area has not been tested. Price action has not come down to the top of that area to determine its viability.
Depending on how or if it happens, a push below 67.00 may be another opportunity to position long in GOLD.
Disclosure: I am long GOLD.