If Randgold Resources Limited (NASDAQ:GOLD) breaks out of its wedge formation (it has not done so.... yet), then we will start working on a plan to have a low-risk entry at a higher level.
As of this writing, it appears that the bullish pressure may be too great to afford the shake-out discussed in the previous report.
This is the reason that low-risk entries are so critical. We were able to obtain two, but one more (at these levels) would have been nice.
A strong bull move is not going to let anyone get aboard comfortably.
It does not look as if gold-itself is going to test the lows and therefore Randgold would not have the down-ward pressure necessary to present a shake-out opportunity.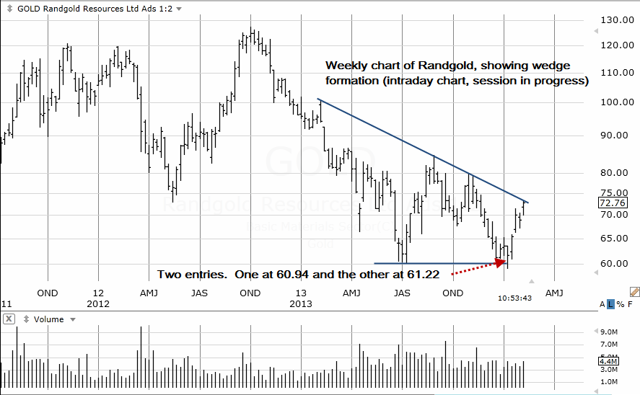 Charts by TeleChart
There is obvious congestion in the 80.00 - 85.00 area, so that is the next likely location for a trading range to develop.
Of course, anyone reading these reports is responsible for their own accounts.
As a side note, for the management of this trade, we are using Gerald M. Loeb (Battle for Investment Survival) techniques of entering on successive short-term indications until the charts show that the trade is over.
There is no telling just where that indication (of trade exit) will be. Until that time, we will continue to take indications as they come and pyramid higher.
Disclosure: I am long GOLD.