Four weeks ago, we presented a forecast that identified a wedge breakout in Randgold Resources Limited (NASDAQ:GOLD). The potential breakout location was also identified as being near the 72-level.
The chart presented in that forecast is repeated below: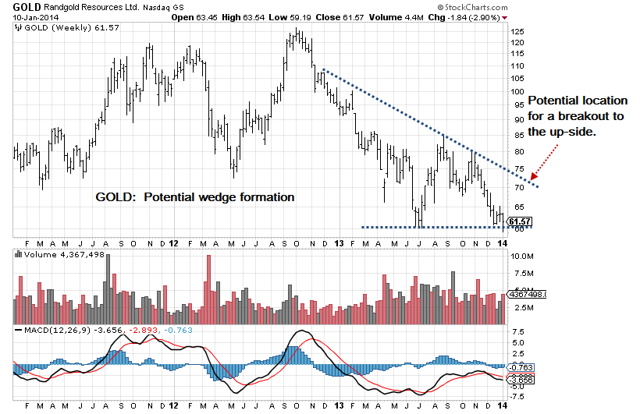 Charts by StockCharts.com
The actual breakout was at approximately 72.50 which represents a less-than 1% error on the price location.
The weekly chart with the breakout is shown below: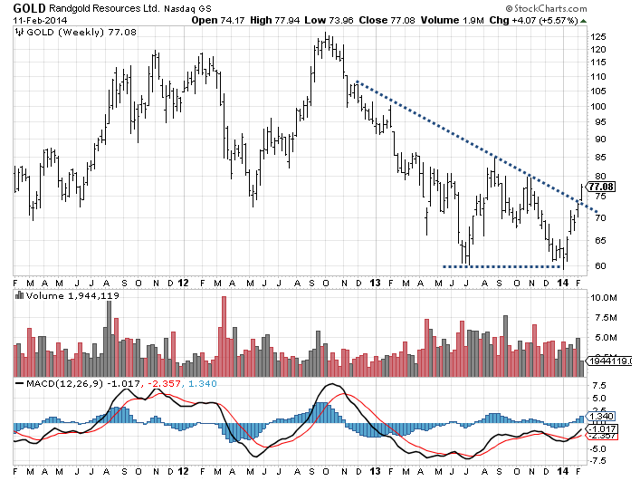 Charts by StockCharts.com
In our opinion, when price action behaves in such a way that we can project where it is going, the price action is no longer random but correlated. Each previous move has a significant effect on the next move.
The price action thus becomes ordered for some period of time before it goes back to randomness.
The hard part of course, is to identify when the movement becomes correlated and when it stops being so.
Since there has been a breakout from an obvious pattern, we can now generate a "measured move" target. This is an area on the chart where price action is most likely to go.
That target (shown below) is around the 105 - 110 area. We should expect that as Randgold approaches this area, the press coverage (and volatility) should begin to pick up.
As always, those reading this report are responsible for their own accounts.
A target is just that: It is probability of a move based on set-up action nothing more.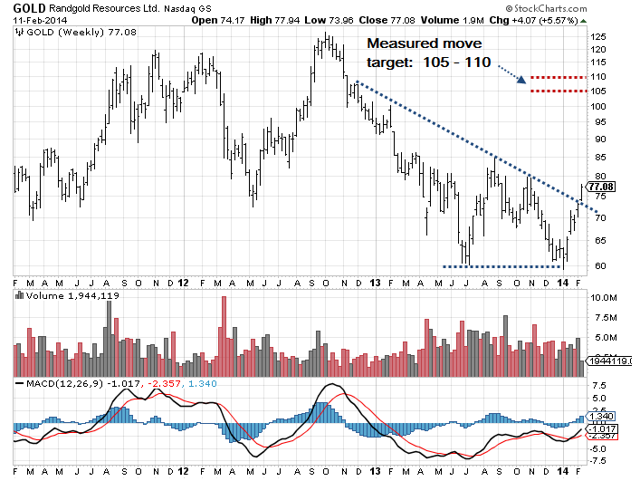 Charts by StockCharts.com
Our plan is to model the guidance of Gerald M. Loeb and continue to take action on "short-term indications" until the charts tell us that the trade is over.
A reasonable stop location (that offers protection) would be in the area of 67 - 69.
Disclosure: I am long GOLD.