Now that Randgold Resources Limited (NASDAQ:GOLD) has moved powerfully off of the pivot low from 1/9/14, we are proposing that GOLD will breakout to higher levels as opposed to undergoing a retracement.
The fact that several research newsletters tracking the gold markets are suggesting that there will be some kind of pull-back, in our minds indicates that there may be no such opportunity.
Typically, a strong bull move will not allow anyone to get aboard comfortably.
For those old enough to remember the Dow and S&P breakout in 1995, it went on for 16 months before there was any kind of retracement.
A monthly chart of the Dow 30 during that breakout period is shown below: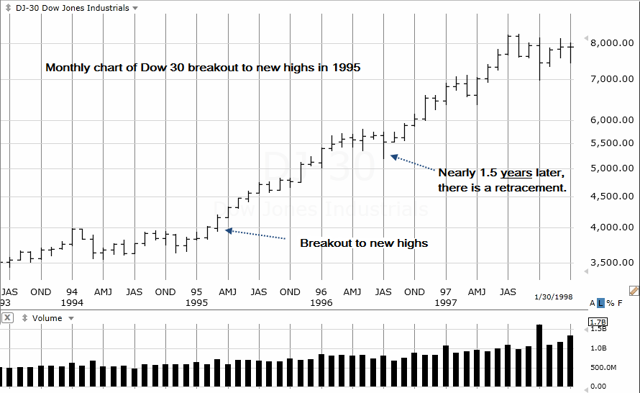 Charts by TeleChart
The same situation appears to be occurring with Randgold. There are no significant retracements and the equity keeps powering on higher.
For the gold-mining sector, our entire focus is on Randgold. This follows the line of Gerald M. Loeb when he states that "The intelligent and safe way to handle capital is to concentrate."1
Concentration in Randgold for example, has kept us out of a poor earnings report from Yamana Gold (NYSE:AUY), lackluster performance from Newmont Mining (NYSE:NEM), lethargic price action from Majestic Silver (NYSE:AG), all-the-while GOLD powers higher.
Quoting Loeb again: "This investment philosophy leads into concentrated purchases of single issues rather than diversification...."2
Loeb was also a strong proponent of minimizing (not maximizing) time in the market.
Of course, this is absolutely contrary to what the financial press wants the public to do with their capital. Is it not interesting that Livermore, Wyckoff and Loeb did not operate in that way.
Price action at the 80 - 82 level may be undergoing what Wyckoff called "absorption". Any selling coming into the market is being readily snapped up.....absorbed.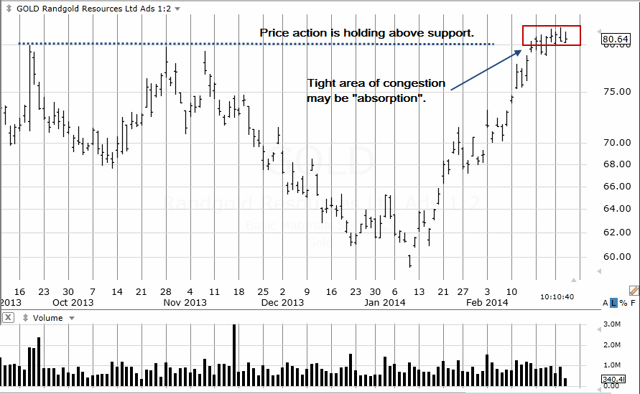 Charts by TeleChart
1Loeb: Battle for Investment Survival, pp. 135, ISBN 9-5631000-26
2ibid, pp. 122
Disclosure: I am long GOLD.