Let's take a look at what the chart of Randgold Resources Limited (NASDAQ:GOLD) is telling us.
From a previous update, we mentioned that after a breakout, GOLD may continue on higher without a test. This reasoning was premised on the fact that GOLD tested after the previous breakout above the 70.50 level.
Now that it looks as if GOLD is indeed testing the breakout, a closer look at the chart is warranted as this breakout test was not expected.
Once we view the entire move off of the 1/9/14 pivot low on a closing basis, we get an interesting pattern emerging.
Take a look at each boxed area of congestion below. Each of the boxed areas also includes a breakout test: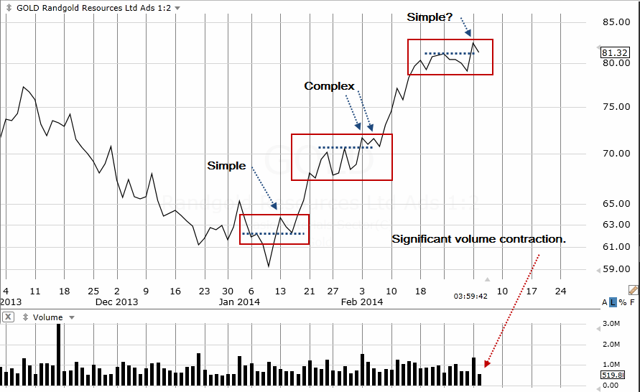 Charts by TeleChart
Now we see that GOLD may be adhering to alternation with a potentially simple test of the breakout as opposed to the prior complex test.
The volume contracted significantly. Volume was over 60% less than the prior session. This adds weight to the case that the test will pass and GOLD will continue higher into the next resistance zone.
The method that is being used for the above analysis is primarily from Livermore and Wyckoff.
Of those two, there is more data on volume analysis published by Wyckoff.
In fact, for those interested in stock market lore, it was Wyckoff that created the terms "Resistance" and "Support". Actually, his initial term was "Point of Resistance"
He did this out of necessity as he had to create descriptions of what he was observing on the bar charts. These terms came into being somewhere around the year 1910, and they have been in use ever since.
Disclosure: I am long GOLD.