Randgold Resources Lit. (NASDAQ:GOLD) retraced to close at the 23.6% Fibonacci level.
Volume was heavy post-Fed announcement.
The chart below is a 4-hour chart that shows the high amount of volume on the session as well as a previous high volume area (post-Fed) at a prior announcement.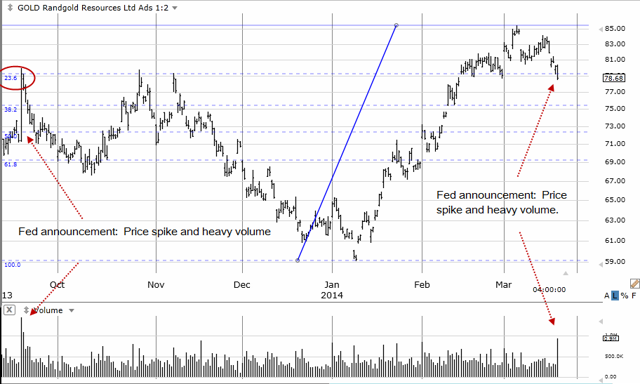 Charts by TeleChart
Notice that the previous price spike was in the opposite direction of the immediate trend.
Looking at the chart above, we can see that GOLD is testing support in the area of 78 - 79.
Further (significant) penetration of this area would indicate that the support is failing and that GOLD may be in for a protracted retracement.
We are maintaining our long position(s) and have set the soft-stop at 76.22 and our hard-stop at 73.96.
Disclosure: I am long GOLD.