Goodrich Petroleum (NYSEMKT:GDP) may be in a short-covering rally.
Yesterday's report used an analysis method that is over a century old. The technique is the same one used by Jesse Livermore, Richard D. Wyckoff and to some extent Gerald M. Loeb.
They were students of the tape and focused on every transaction (something you could do in those days) to determine the forces behind the market.
In our markets of today, there is much more volume but the method still applies. The objective is to determine force and which direction that force will push the market.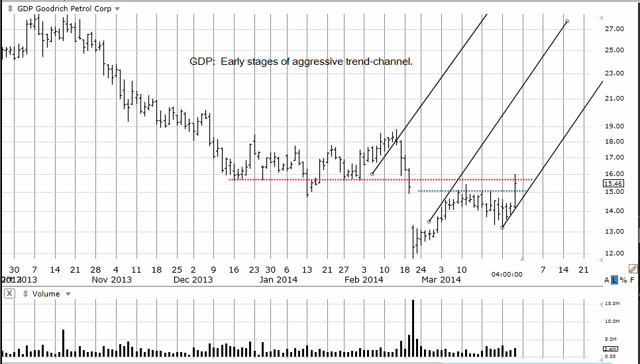 Chart by TeleChart
For now, GPD is moving up and there is the added condition that so much of the stock is held short.
There is no telling if the rally will explode or die-out as there are other equities out there with a large short position (Molycorp comes to mind) that are not moving up.
The mark-up on the daily chart identifies the current trend and two potential trading channels.
Disclosure: I am long GDP.