Starting with the Direxion Daily Gold Miners 3X Bear ETF (NYSEARCA:DUST), we see that early in the session the prior low was tested with a swift move lower at the open.
The low of 22.51, from the prior session held. The market reversed (made a higher high) and closed just slightly below the previous day's close. It is still a bit ambiguous, but the probabilities are beginning to stack up favoring a wash-out in the silver/gold sector.
The market is behaving consistent in a manner that will trap the largest number of those long as possible.
DUST is still a long way from a breakout of the wedge pattern that is seen on the Weekly chart. However, price action thus far, is consistent with establishing a trading range at a higher level.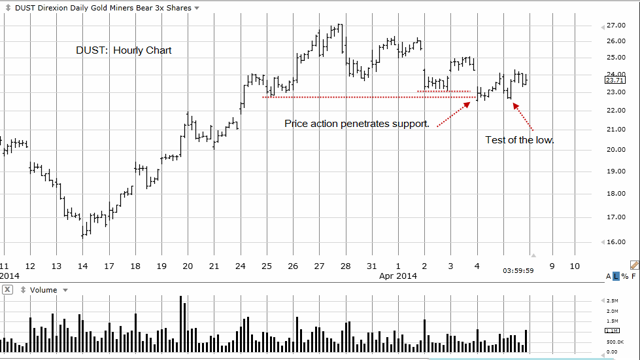 Chart by TeleChart
Goodrich Petroleum (NYSEMKT:GDP) is testing the top of the breakout established three sessions prior and hit our stop of 15.78.
The trade gave us a 3.23X profit on the risk. So, a risk of $500 for example, would have netted $1,617. An ok trade, but not great.
There may still be more upside to GDP. However, the scenario setting up in DUST looks to have more profit potential. Therefore, our focus is now on the mining sector.
Disclosure: I am long DUST.