The Market Vectors Gold Miners ETF (NYSEARCA:GDX) and the SPDR Gold Trust ETF (NYSEARCA:GLD) continue to point to the probability that gold and the gold mining sector may be setting up for a major sell-off that leads to a (final) capitulation of the gold bulls.
That has been our theme since the initial update indicating that something was wrong with the bull case for gold and the gold miners. So far, price action is at least confirming that the trend is down.
Taking a look at the intermediate-term perspective, the weekly chart of GLD shows that price action looks to have completed its counter-trend move and is posting an out-side down weekly bar.
Of course, there are two more trading sessions to go for the week.....however, the fact is that GLD has already posted a higher-high and a lower-low than last week.
The wedge formation is clear. If there is a break of the lower support line (at approx: 115), the measured move projection of GLD would be to the 95.00 area.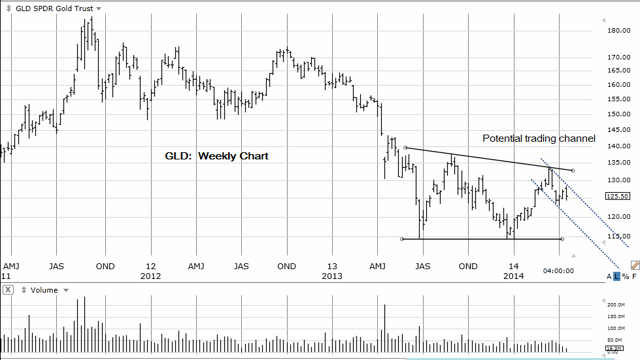 Chart by TeleChart
Looking at the GDX, we now have a trend-line with several contact points.
Once again, the chart of GDX is inverted: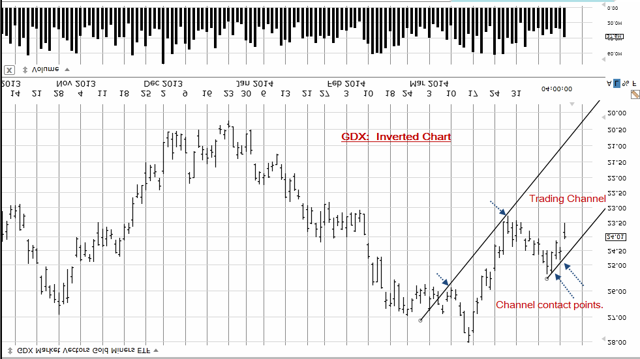 Chart by TeleChart
We are using the GDX as a proxy for the Direxeon Daily Gold Miners Bear 3X ETF (NYSEARCA:DUST) as the GDX does not contain the tracking errors prevalent in some of (if not all) the inverse ETFs.
Disclosure: I am long DUST.