As stated in the previous update, the objective is to pull-back to a longer time-frame such as the weekly chart for trade management on a go-forward basis.
This technique may be sufficient for the position in the Direxion Russell 2000 Bearish 3X ETF (NYSEARCA:TZA).
The reason for changing to a weekly time-frame can best be explained by taking a look at the chart below: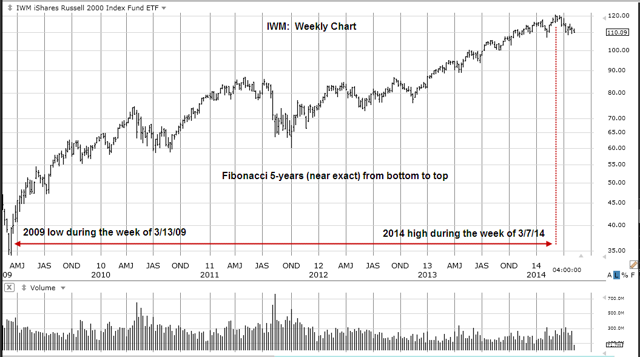 Chart by TeleChart
The on-going down move in the iShares Russell 2000 ETF (NYSEARCA:IWM) may only be a retracement in a larger up-trend. Or, it may not.
It's the "may not" part that is of special interest.
If the current move marks the end of the bull move from 2009, then the entire market could unravel quickly. If that is to happen, the past three days were an excellent opportunity to establish a position in TZA.
Having identified the IWM as one of the weakest of the major indices, we are fully positioned and are now "sitting tight".
Therefore, these updates will become less frequent.
Having worked to position in TZA, daily analysis of every nuance is equivalent to digging up one's garden seeds each day to see how they are doing.
Eventually, the seed is killed. The equivalent in the markets is being shaken out of a major move prematurely.
Market updates will be published when there is something of note or if there are changes in our TZA position size.
It should be noted that the Market Vectors Gold Miners ETF (NYSEARCA:GDX) seems frozen.
It is possible that as the other markets are declining, there may be temporary support in the GDX. The knee-jerk reaction may be to move funds to the perceived safe-haven.
If this move in the IWM (and the other major indices) turns into a rout, there most likely will be no safe-havens.
Disclosure: I am long TZA.