At approximately $20.3bln, Barrick Gold (ABX) is the second largest capitalization of the senior miners. Goldcorp (NYSE:GG) is just slightly higher at $20.6bln.
As the daily chart of ABX shows, it has been building a wedge pattern for over a year. Today, we can see a breakout to the down-side from that pattern.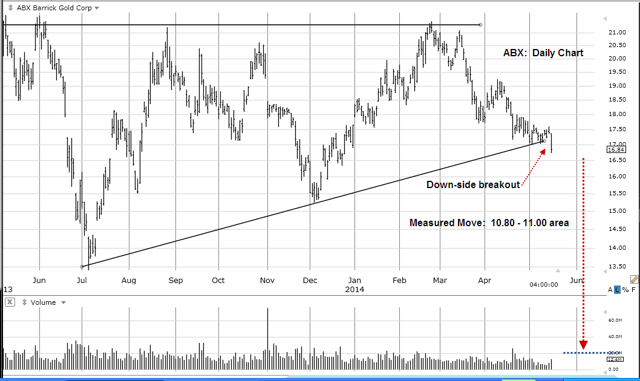 Chart by TeleChart
The down-side target for ABX is around the 10 - 11 area. If this move transpires, then it is going to take the Market Vectors Gold Miner ETF (NYSEARCA:GDX) down as well.
Overall, we should be able to see how a capitulation event may be starting to play-out.
This link of an interview with the Randgold Resources Ltd. (NYSE:GOLD) CEO, Dr. Mark Bristow indicates that the entire gold mining sector has corporate structural problems.
"There needs to be a substantial re-structuring of the industry"
"We have not seen the last of that pressure"
The 'pressure' that Dr. Mark Bristow is hinting at may be a significant decline in the price of gold.
If the overall market (Dow 30, S&P 500) starts to decline, it may cause a cascading effect on the price of gold where it declines as well.
At this point, we are fully positioned in DUST and looking for additional trade entries.
Disclosure: I am long DUST.