As we take a look at the Market Vectors Daily Gold Miner ETF (NYSEARCA:GDX) below, we can see that it is currently at mid-channel.
There is some amount of support in this area as seen by the dashed blue line going back to the December - January time-frame.
How GDX behaves at this point may indicate if it will bounce higher to test the breakout or congest and then continue on lower.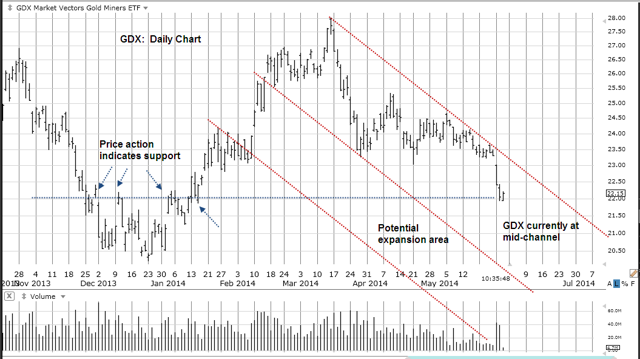 Chart by TeleChart
As seen on the chart, there is a possibility for channel expansion with the original lower channel line now becoming the mid-point of the wider channel.
If the on-going move is to transpire into the capitulation event that has been reviewed many times in these updates, we need to be aware that price action may break through the mid-point and head lower lest we exit too early (at the current lower channel) and lose the position.
Disclosure: I am long DUST.