Yesterday, the iShares Russell 2000 ETF (NYSEARCA:IWM) posted a reversal.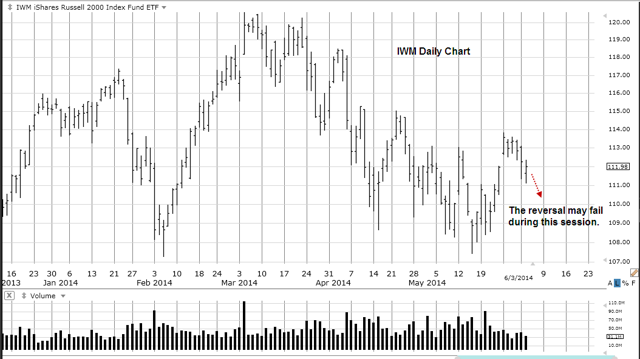 Chart by TeleChart
At the pre-market session, price action is indicating that the reversal may fail.
If there is a failure of the reversal, tracking funds such as IWM and the Direxion Russell 2000 Bullish 3X ETF (NYSEARCA:TNA) may be in serious trouble.
On the other side of the coin, the Direxion Russell 2000 Bearish 3X ETF (NYSEARCA:TZA) may be in an excellent position to rally.
Failures like this present good low risk opportunities when positioning in the direction of the failed condition.
This set-up may be so good that the position in the Direxion Daily Gold Miner Bear 3X ETF (NYSEARCA:DUST) is lightened-up to free capital and margin for an entry in TZA.
Not entering yet but watching closely.
Disclosure: I am long DUST.