After the close, we can see that the Direxion Daily Gold Miner Bear 3X ETF (NYSEARCA:DUST) pulled away from the session low of 27.20.
The chart shows that the trend-line that was identified in this earlier post appears to be in-effect at this point.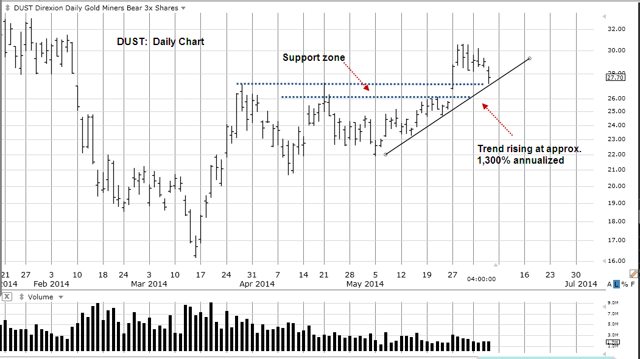 Chart by TeleChart
Today's attempt at increasing the position size was a small effort.
A small effort means that today's initial entries and exits were only 5.5% of the overall position size.
This is what Gerald M. Loeb called pyramiding. Livermore and Wyckoff also discussed the technique.
As the price continued to erode, a decision was made to exit not only the losing position but to take profit on the position that was established at 25.27 on 5/16/14.
Both of these positions taken as a whole represented 27.3% of the total position size.
That would mean that on a hypothetical position size of 1,000 shares, we sold 273 today........ Not much and a major chunk of the position remains.
Since the "1,300% line" appears to be in-effect and has been contacted three times (and not breached) in the past 16-trading days, this line is our exit line.
A decisive penetration of this line would mean that the entire position is exited.
Disclosure: I am long DUST.