The weekly chart of the Market Vectors Gold Miner ETF (NYSEARCA:GDX) below shows that as GDX is coming back up to the break-out area, it is also meeting with a heavy confluence of resistance.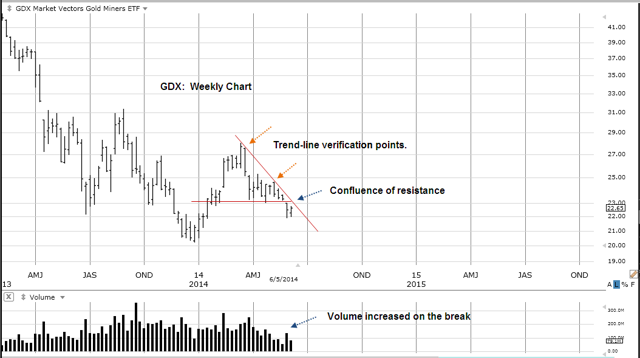 Chart by TeleChart
The down-trend has been verified three times (the weeks of 3/14, 3/21 and 5/9) before the break-down and is now in the process of being verified again.
This time, it is not just the trend line that is in-effect, but the resistance area as well.
There is never any sure thing in trading.
However, in this case, the overall trend is down and we are now coming back up to test (or have already tested) a confluence of resistance.
In addition, the overall market (S&P 500) is reaching an extreme. As mentioned in other posts, the GDX down-trend may be helped along if there is an overall shift in sentiment to all stocks.
There was also the announcement of negative interest rates by the ECB yesterday.
If gold is regarded as an inflation hedge (rising interest rates), how can it be a deflation hedge at the same time?
With a GDX down-trend that is now undergoing a test of the confluence of resistance, there may be another opportunity for a trade entry in the Direxion Daily Gold Miner Bear 3X ETF (NYSEARCA:DUST).
Watching both closely.
Disclosure: I am long DUST.