The early morning session in the iShares U.S. Real Estate ETF (NYSEARCA:IYR) made an attempt at a rally that failed.
Price action for the prior week was decidedly lower with each day making a new low except for the low-volume day on Friday (4/13/14).
After the early morning rally that failed, IYR headed lower and closed lower on increasing volume.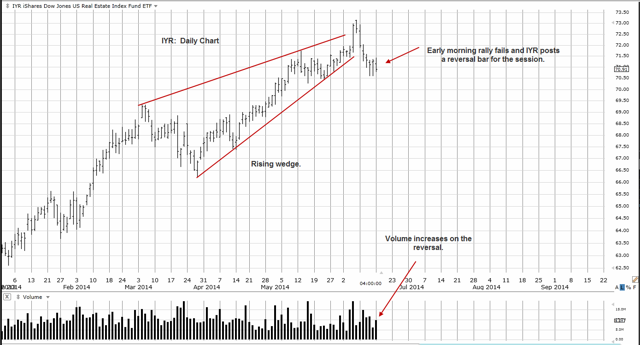 Chart by TeleChart
When compared with the Market Vectors Daily Gold Miner ETF (NYSEARCA:GDX), the total market cap of all equities that make up the IYR, is over four-times larger than the equities that comprise the GDX.
Essentially, when the equities that comprise the IYR start heading in one direction, it takes a lot more force to arrest the move than it does for equities that comprise the GDX.
The upward force represented by IYR appears to be spent.
The ascending wedge pattern indicates termination of the move. Since this pattern is occurring after supply has (over the past year) already been indicated, we may indeed have a juggernaut heading to lower levels.
In the event that IYR somehow makes a recovery and begins to move to higher levels, a reasonable stop location for any short positions would be today's session high at: 71.43.
Disclosure: The author is long SRS.