Interest rates may be a catalyst that accelerates an overall market decline.
In previous posts, the premise was made to be on watch for a false breakout of the iShares 20+ Year Treasury Bond ETF (NYSEARCA:TLT) with a move back into the range.
A false breakout would signal that higher rates from this point are the most probable outcome.
In an overall market decline, few would expect interest rates to be rising at the same time.
If the markets decline, would there not be the "flight to safety" that bonds seemingly provide? That is what happened at the last major down move during 2007 - 2009.
What if bonds declined with yields rising at the same time as a market decline.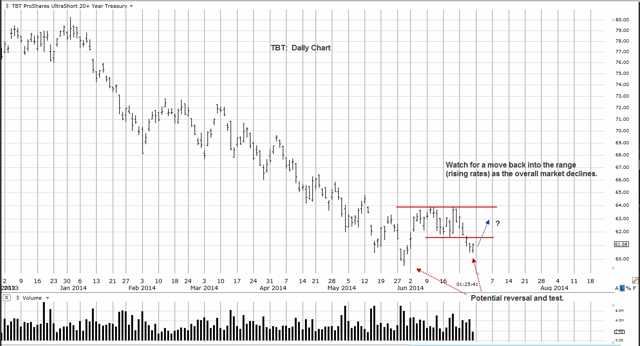 Chart by TeleChart
As we look at the inverse bond fund ProShares UltraShort 20+ Year Treasury ETF (NYSEARCA:TBT) we see that a reversal may indeed be a possibility.
Disclosure: The author has no positions in any stocks mentioned, and no plans to initiate any positions within the next 72 hours.