Throughout the past few weeks the idea has been proposed that a rising interest rate environment and a declining stock market taking place at the same time is a real potential.
If this scenario plays out to its fullest extent (a major reversal with interest rates rising), it will trap the largest number of 'investors' as they flee to the bond safe-haven only to see that too is in a decline.
The iShares Russell 2000 ETF (NYSEARCA:IWM) looks as if it is pulling back from a failed breakout and is declining back into the wedge pattern.
If price action continues its decline and penetrates the lower channel line, we will have confirmation of a potentially significant reversal.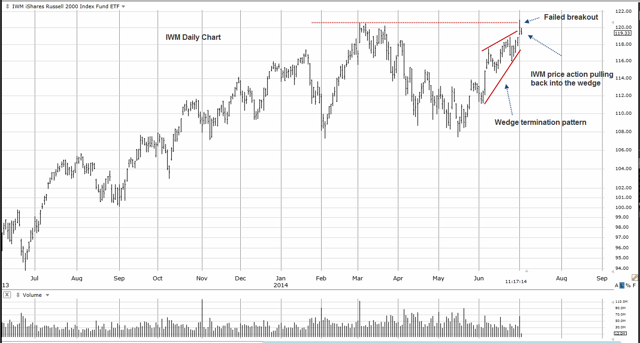 Charts by TeleChart
Meanwhile, back at the ranch, the bond reversal as seen by the iShares 20+ year Treasury ETF (NYSEARCA:TLT), is confirmed by a solid move back into its previous trading range.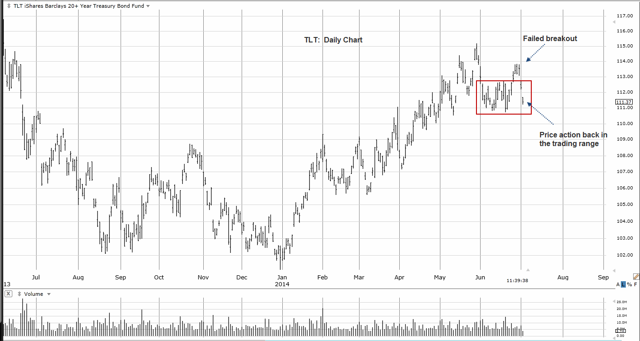 Chart by TeleChart
Paraphrasing Jesse Livermore: He said to get yourself positioned correctly and then stay put until conditions change.
Therefore, we have positioned short the IWM via the Direxion Russell 2000 Bearish 3X ETF (NYSEARCA:TZA).
Now we wait ("sit tight") for conditions to change.
Disclosure: The author is long TZA.