In 1921, Richard D. Wyckoff arrived at the office of Jesse Livermore to disucss business matters.
During part of that conversation, Livermore revealed some of his trading methods to Wyckoff.
One of the tenets mentioned in that discussion was how Livermore waited for the exact time to enter a trade. The time when the market was at an extreme and could go either way.
As we look at the daily chart of the iShares Russell 2000 ETF (NYSEARCA:IWM) below, there is no question that the market is at the limit.
This is the point where it could go either way. The single most important factor that points to a possible reversal is the market's inability (so far) to hold above the resistance level.
The longer we hold below resistance at such an extended level, the more the power of the thrust fades away...........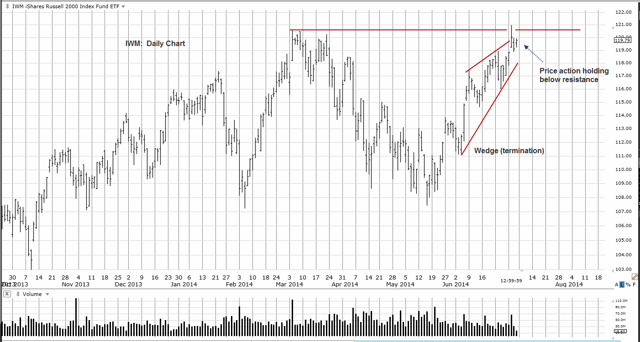 Chart by TeleChart
Disclosure: The author is long TZA.