For several weeks, this site has been discussing and presenting the conditions that were a pre-cursor to this morning's open.
Those conditions were, that the Small Cap sector represented by the iShares Russell 2000 ETF (NYSEARCA:IWM) was setting up for a significant, mid-to-long term reversal.
There is at least the potential for the IWM to retrace to a 38% level as shown in this previous post.
That is a cautious estimate of potential direction. A more aggressive estimate would put the IWM at lower levels..............much lower.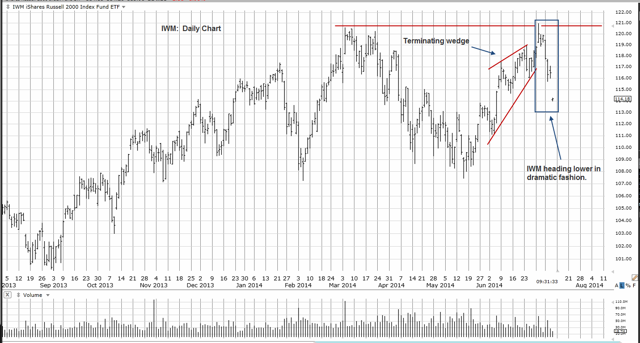 Chart by TeleChart
Is this move in IWM that we are seeing now going to be the move that gets us to lower levels? That can not be answered until it is all over.
However if this move is the one, then the objective of the trader/speculator is to take full advantage of the condition.
With that in mind, a full position has been established in the Direxion Russell 2000 Bear 3X ETF (NYSEARCA:TZA) so that we can participate in the trend change that is taking place in the IWM.
Since it was using Livermore, Wyckoff and Loeb analysis techniques that got us into this (very profitable thus far) position, it must be those techniques that get us out.
At this point, there are no sell signals in the TZA. In fact, as TZA progresses, it may give additional buy signals. As the current position profit increases, so does the ability to use additional margin.
This method is exactly the same as what Livermore used to make a fortune during the Panic of 1907.
Disclosure: The author is long TZA.