Starting around late March of this year the idea was proposed that the gold market may have one more down-leg that would effectively trap the less informed and drive the price of gold and the miners into a capitulation event.
The gold rally over the past four or five weeks may be the final set-up to the beginning of that event.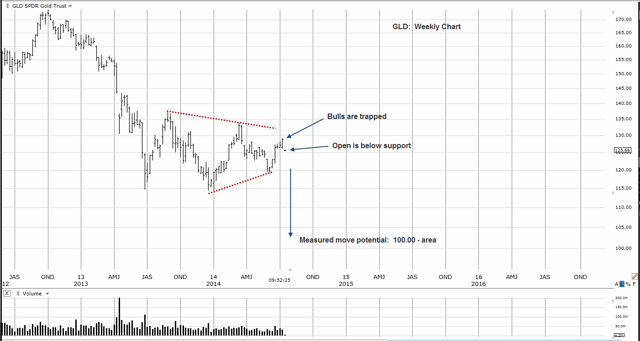 Chart by TeleChart
Gold's sharp thrust lower in the overnight futures session and the lower SPDR Gold Trust ETF (NYSEARCA:GLD) open today was forecast in full if one looked at what the professionals were doing.
"The gold and silver markets are displaying a classic example of the interaction between commercial and retail traders. Another way to look at this is the battle between professional and amateur traders." Andrew Waldock (formerly of Lind-Waldock) http://bit.ly/1jn2V2x
The point that Mr. Waldock was making referred to the fact that the commercial traders were selling (short) into this market at a level that has not been equaled in over ten-years (silver contracts).
The amount sold short was significant and it was done quickly within a few weeks.
The professional traders have taken the stance that this rally is a trap and they are in position for a decline in the gold price.
We may be at the start of that decline now.
As always, there may be one more high (to test the top of the wedge) in gold. If so, the market has already had its price-shock and if the rally were to occur, it may provide another opportunity to position short.
Editor note: Waldock quote used with permission
Disclosure: The author has no positions in any stocks mentioned, and no plans to initiate any positions within the next 72 hours.