If I focus on the wrong question, not only am I focused in the wrong direction, I will get an answer that leads me even farther away from the truth.
In effect, I will be two levels removed from reality.
Livermore and Wyckoff were aware of the fundamentals, but they both recognized that fundamentals had little to do with the forces behind price movement.
In Wyckoff's own trading memoir, he essentially states that as long as one searches for the "why" of the markets, one will never have success.
This is from the man that had a nine acre estate in Great Neck, Long Island and lived next door to the President of General Motors Alfred P. Sloan.
Wyckoff's financial newsletter distribution (at the time) was larger than all other financial newsletter publications combined.
With each passing day we get more indication that there has been a significant top in the iShares Russell 2000 ETF (NYSEARCA:IWM).
If price action continues downward for the next several days, we will have at least a monthly reversal bar and maybe even a key reversal (outside down).
Taking a look at the long term picture for the IWM, we get a harrowing possibility.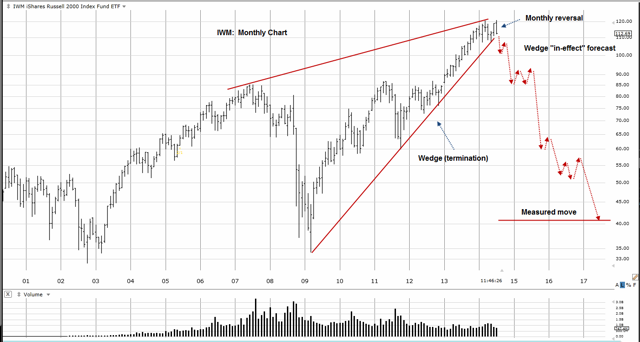 Chart by TeleChart
This is the potential for the move if indeed the wedge pattern is in-effect. What does "in-effect" mean?
If the analysis of the technical pattern shown above is correct, then we can forecast a measured move as shown. The wedge pattern is essentially in-effect.
Most of the public appears to be in the mode of jostling between each other (on fundamentals) as to what scenario will play out to "cause" a reversal.
Our perspective is that the reversal is already underway.
Of course, there is a possibility that some other scenario is playing out in the markets. That ultimately, the potential move to lower levels transpires into something else.
To that end, price action is monitored on a daily basis. If there is something amiss, plans will be made for an exit.
If somehow, the IWM decides to reverse and move higher, we would exit with a hefty profit.......even if proved wrong. :-)
Disclosure: The author is long TZA.
Additional disclosure: Illustration only. Not investment advice.