For quick reference, a summary of the significant market calls on the iShares Russell 2000 ETF (NYSEARCA:IWM) are provided below:
About to get ugly (for the bulls)
Admittedly, there was a slight miss-calculation (0.40-points, the distance between 115.25 and 115.65) as to the exact counter-trend high prior to the current move lower.
However, once the counter-trend move was complete, it was instantly recognized (within seconds) and an update was posted.
Today's session has moved to within 0.06 points of posting lower than 111.11, which would create an out-side-down monthly reversal.
At the time of this post, the IWM is attempting to rally off of its low. Today's close may be significant.
The chart below is updated to show the Elliott Wave sequence (and projection):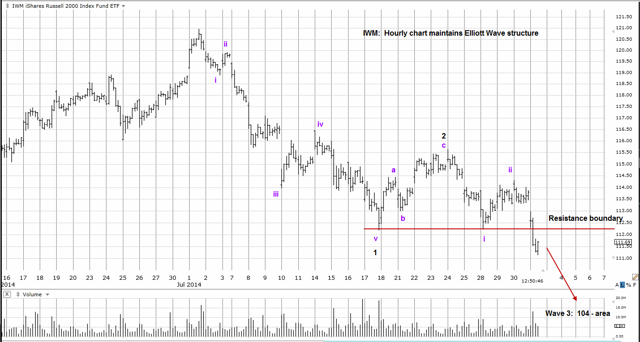 Chart by TeleChart
How does this all correlate with the data releases of the week. The market should have responded positively to a stellar GDP
Fundamentally, the GDP number shows that the economy is doing much better. The IWM should have rallied.
Early on in his career, Wyckoff determined that market forces were at work that had little to do with fundamentals.
We can determine with confidence that nothing has changed.
These events (data releases) are essentially meaningless when it comes to determining what the market is going to do next.
We need to always be on guard for any change in market character.
Although confident in the forecast to the 104 area, if the IWM manages to penetrate the resistance area shown above to the up-side, the analysis for a continued down move will need to be changed.
Disclosure: The author is long TZA.
Additional disclosure: Illustration only. Not investment advice.