Yesterday, it looked as if the counter trend move in the iShares Russell 2000 ETF (NYSEARCA:IWM) was complete and that the index was heading lower.
Price action today shows that too many stops were placed at yesterday's high in the IWM and so those stops must be taken out before proceeding.
This type of action is automatic and computer controlled.
That means that computer buy and sell programs are being continuously generated (modified and regenerated) based on where the (stop) orders are located.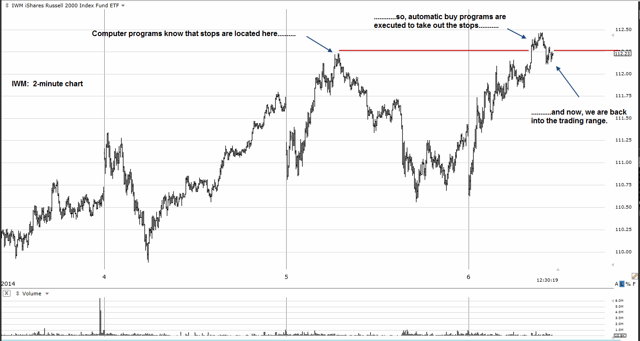 Chart by TeleChart
This link should help provide authentication for the above statement.
Scroll down to Item No. 5 for details
For this particular part of the move, the low risk entries were identified on July 3rd and July 24th.
Having established at those levels, the price action of the past few days has been a mere annoyance as opposed to being beat about the head and shoulders.
Note that today may also be a low risk point for entry. Being this far in the move, it won't be readily known until later.
Nonetheless, I must indicate that if I were to increase my line (which I am not going to do) in the Direxion Russell 2000 Bearish 3X ETF (NYSEARCA:TZA), I would do it at current levels and set the stop (for this additional position only) at the day's low.
Disclosure: The author is long TZA.
Additional disclosure: Illustration only. Not investment advice.