Can the iShares Russell 2000 ETF (NYSEARCA:IWM) open higher and still be in a down-trend?
The short answer is yes...........but it can't go too far or the channel line will be penetrated.
Looking at the Daily chart of the IWM, I have indicated where the current pre-market activity is taking place.
Looks like if we exceed the 112.65 - 112.75 level, then the channel is being penetrated.
If that happens, an exit might be considered.
This particular down-move has been in effect for five-weeks and is well along in its trend. This type of whipsaw behavior is typical.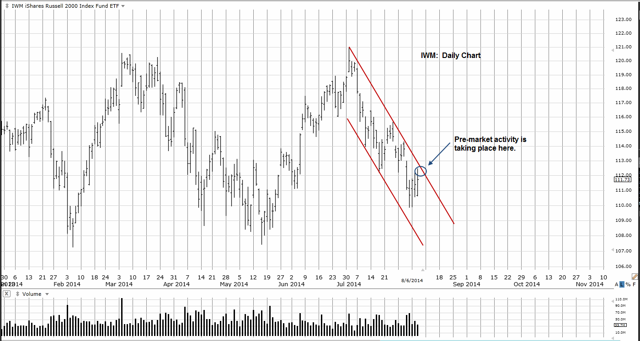 Chart by TeleChart
As a side note, under current conditions the position might be exited, but I am not going long. We still have an out-side down monthly reversal. The monthly and weekly momentum indicators are both pointing down........this does not support a case for going long.
Disclosure: The author is long TZA.
Additional disclosure: Illustration only. Not investment advice