The weekly chart of the iShares Russell 2000 ETF (NYSEARCA:IWM) below shows detail of price action testing the underside of a trend-line break.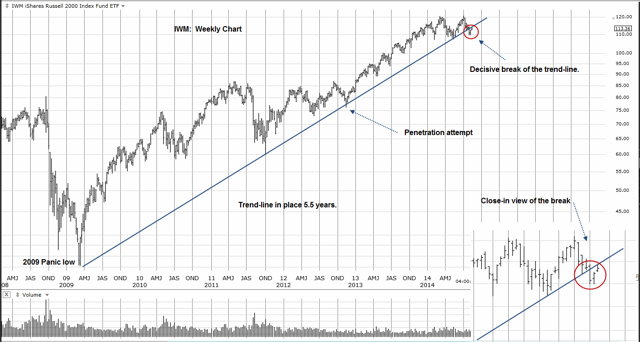 Chart by TeleChart
Notice that price action began to fade at the close (as seen on a daily chart....not shown) and was not able to hold near the high of the day.
That action suggests that the break is going to hold and that the reversal from early July is still in place.
I have updated my view of the Elliott Wave count on the hourly chart below.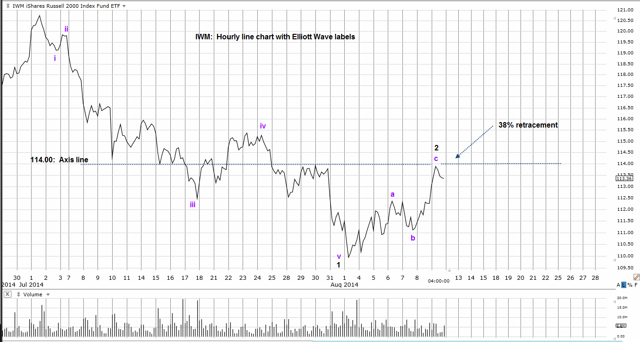 Chart by TeleChart
Since today's action was a 38% retracement from the low, I have changed the count to indicate that we may be at the top of Wave 2.
I am not going to list an "alternate" count as I consider Livermore and Wyckoff analysis to be more reliable than Elliott Wave (as stated in previous updates).
The purpose for using the wave counts was to generate a projection for the on-going move. If we are indeed at the top of Wave 2 and about to continue down. The downside target for Wave 3 is now in the area of 100 - 103.
I have used the P&F charts as well to obtain a projection. Those projections are posted on my LinkedIn account.
Please reference this link for the P&F counts.
Disclosure: The author is long TZA.
Additional disclosure: Illustration only. Not investment advice.