These situations are difficult to find in the market. Every time you repeat purchases and try to find a logical meaning for so many massive accumulation of shares.
The SEC defines insider trading as:
When corporate insiders-officers, directors, and employees-buy and sell stock in their own companies. When corporate insiders trade in their own securities, they must report their trades to the SEC.
But, this definition can mean a purchase clear to investors? The massive purchase of shares can have a meaning of a favorable situation within the company, economic solvency and confidence of the executives, but also, it may be a future forecast of negative business for the opening of shorts positions.
In the next article I will discuss the current situation of the company Opko Health (NYSEMKT:OPK) and purchases of the insiders.
OPKO Health Inc is a multi-national pharmaceutical and diagnostics company that aims to establish industry-leading positions in large and rapidly growing medical markets by leveraging our discovery, development, and commercialization expertise and our novel and proprietary technologies. There intend to leverage our global commercialization expertise to pursue acquisitions of commercial businesses that will both drive our growth and provide geographically diverse sales and distribution opportunities.
Company Structure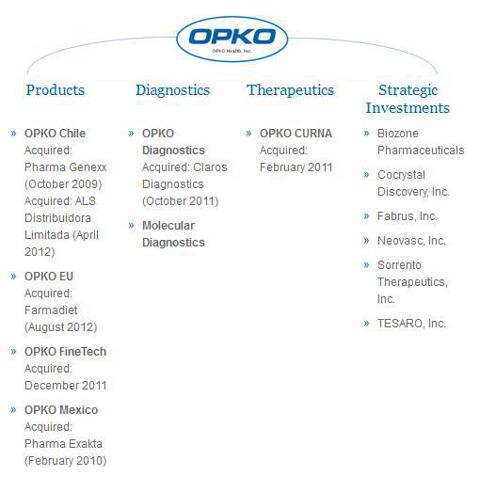 Fundamental Analysis
Financials
Opko Health reported the second-quarter financial results on August 8.
| | |
| --- | --- |
| Revenue | $10.21 Million |
| Net Income | ($10.24 Million) |
| Cash | $38.17 Million |
Analyst Research
| | | | | |
| --- | --- | --- | --- | --- |
| DATE | Type Communication | Analyst | Rating | Target price |
| 14-July-11 | Reiterated | Ladenburg Thalmann | Buy | $8.5 |
| 14-July-11 | Initiated | Ladenburg Thalmann | Buy | $6 |
Insiders
Insiders are buying 9,134,467 shares in 2012.
The following is a summary of the latest transactions:
Key Ratios & Competitors
The stock have 31.22 million of shares short. Opko Health have at 55.20 million of cash flow. The current market capitalisation is 1.31 billion of dollars. Competitor: Alnylam Pharmaceuticals (NASDAQ:ALNY).
Conclusion
Dr. Frost seems to be that he wants to buy a percentage of 51% in the company. This is a good sign for investors who want to position themselves for long-term. The company has two very important catalysts during the year 2013 and for this reason I would not hesitate in making a purchase of shares for a long term.
Disclosure: I have no positions in any stocks mentioned, and no plans to initiate any positions within the next 72 hours. I wrote this article myself, and it expresses my own opinions. I am not receiving compensation for it (other than from Seeking Alpha). I have no business relationship with any company whose stock is mentioned in this article.