Just imagine for a moment that you could write the symptoms of a disease in a computer system to obtain a full treatment and the appropriate medication for this illness in a matter of seconds. Imagine also that this system had the key with combinations of molecules and components for many orphan treatments or very serious illnesses that lack of treatment. For many readers' information that system exists and has been patented by Zalicus Inc (ZLCS). It is not a system of Microsoft (NASDAQ:MSFT), nor a system of Apple (NASDAQ:AAPL) or Oracle (NYSE:ORCL).
To realize the opportunity of combination therapy, Zalicus Inc has created a fully integrated and highly automated system of customized hardware and software for combination high throughput screening (cHTS™) in phenotypic mammalian cell based assays. This technology platform, coupled with its vast library of molecules covering the most important targets in human disease, enables exhaustive combination screening. Together with an analysis platform capable of recognizing and quantifying synergistic drug combinations and integrating complex disease, pathway, target and drug information, its platform enables the discovery of new combination biology and the identification of specific combinations of drugs with the potential to treat serious diseases by simultaneously modulating multiple biological pathways. Its cHTS™ platform is being used to discover additional product candidates for its pipeline and to supplement the pipelines of its collaboration partners.
On May 2009, Zalicus and Novartis (NYSE:NVS) entered into a strategic alliance focused on the discovery of novel anti-cancer combinations. The collaboration explores combination effects in cell lines representing a broad spectrum of cancers to provide a robust and systematic understanding of combination therapy opportunities. The alliance also explores important differences in response of cancer type, including genotype and other mutational differences. Each party will contribute compounds from its compound's library and evaluate the anti-cancer effects by utilizing the Zalicus proprietary combination high throughput screening (cHTS™) platform and Chalice analyzer software.
Under the agreement, Zalicus received a $4 million upfront payment and funding for research support for two years. In addition, for each combination advanced to the market from the collaboration, Zalicus is eligible to receive up to $58 million in clinical, regulatory and commercial milestones. The alliance had an initial two-years term that may be extended by Novartis for three additional one-year periods and will be renewed into May 2013. Zalicus retains the right to conduct oncology research on its own behalf as well as partner with others in the field of oncology and will retain certain intellectual property rights which may arise from the collaboration research.
Novartis demonstrated the importance of technology cHTS™ in the last meeting AARC this year. In its conference titled "The Cancer Biology Revolution: From Concept to Clinic", showed the participants of the conference, the importance of Zalicus in its future developments of anti-cancer compounds. Novartis and Zalicus have already issued a patent of a method for treating haematological cancers. This demonstrates the efficiency and importance of this technology to the pharmaceutical multinationals. It is very likely to see in a future pharmaceutical companies such as Pfizer (NYSE:PFE), Biogen Inc (NASDAQ:BIIB), Celgene Corporation (NASDAQ:CELG), Roche Holding Ag (OTCQX:RHHBY) and Gilead Sciences Inc (NASDAQ:GILD) using this technology for its development and collaboration of diseases not covered.
Pfizer Australia has a long history of investing in R&D. This includes through partnerships and collaborations with key research institutions, as well as philanthropic initiatives such as fellowships and grants supporting individual researchers and their research projects in the areas of cardiovascular medicine, neuroscience, oncology and endocrinology. Mr. Read, CEO at Pfizer, speaking at the JP Morgan Global Healthcare Conference in San Francisco, said "I am very disinclined to be looking at the possibility of another mega-acquisition and we're only going to do bolt-on acquisitions or licensing deals that make sense financially". cHTS™ technology and Zalicus would not be a mega-acquisition for Pfizer. Just a small acquisition.
Biogen Idec uses cutting edge science to discover, develop, manufacture and market biological products for the treatment of serious diseases with a focus on neurological disorders. Nevertheless, if you take a look at its product pipeline, you will see how Biogen Idec needs progress in developments against the cancer because it has no candidate drug for treating this disease.
Celgene Corporation is committed to enhance medical and basic scientific research in diseases related to the current and future areas of interest of the Company. Celgene considers requests for support of investigator-initiated research in these therapy areas. The mission and purpose of the research program is to support investigators who have ideas to use Celgene compounds to obtain new knowledge that could advance our understanding of a specific drug and contribute to an improvement in the care of patients. Based on this statement taken from Celgene's web, cHTS™ technology would be a great support for the development of Celgene Corporation's impressive oncology portfolio.
Roche Holding Ag, the world's biggest cancer drug manufacturer, relies heavily on Herceptin® as its third largest drug in sales annually. Herceptin® sales tallied $5.5 billion last year. Sales in the first half of 2012 have risen to about $3 billion. The big biotech is expecting results from 19 clinical trials in the next 18 months to offset any potential decrease in sales of Herceptin® as it faces its latest hurdle and patent expiration in 2014. Twelve of its 19 late-stage trials involve new drugs for a variety of indications. In my opinion, Roche would need a tool that will provide new cancer developments and future candidates against cancer. The cHTS™ technology would give it the combination of its studies of Herceptin® with new molecular components that can provide it with strong candidates.
Gilead Sciences has worked to discover, develop and commercialize medications to advance the care of patients suffering from life-threatening diseases in areas of unmet medical need. Gilead's therapeutic areas of focus include HIV/AIDS, hepatitis, serious respiratory, cardiovascular, and metabolic conditions, cancer and inflammation. If we look at the portfolio of Gilead we will examine how the developments have a cancer weight important to the company. The cHTS™ technology could help the company with its ongoing studies in the same way as Zalicus' ion channels of sodium and calcium might be extremely important to Gilead.
Novartis is not the only company interested in helping with this impressive technology. In Zalicus' last financial report, you can check how well the company Amgen Inc (NASDAQ:AMGN) is participating in this race of the technology developments with the cHTS™.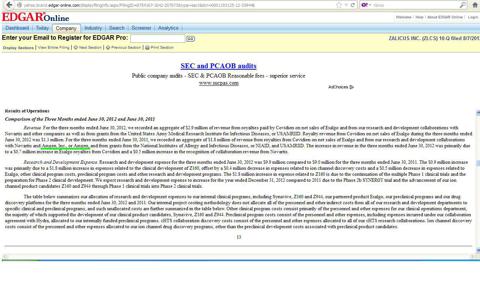 (SOURCE)
But all does not end here. Dr. Snutch, a Senior Scientific Advisor to Zalicus and the founder of Neuromed, is a professor in the Michael Smith Laboratories at the University of British Columbia. He was the first scientist in the world to describe the molecular basis for clinically important calcium channels in the cardiovascular, endocrine and nervous systems. The cHTS™ technology can provide new milestones and medical therapies for channels of calcium and sodium. What would be the value of a medicine that can act as a substitute for opiates? Many billions of dollars and the market knows it.
As you may have noticed, cHTS™ is a long-distance race for the large pharmaceutical companies in the sector, but we could also think of the interest that companies like Microsoft , Apple , Oracle or Google (NASDAQ:GOOG) may have to get the most important technology in the combination of components.
On July 27, 2006 Microsoft Corporation announced that its first step would be to purchase clinical health care software developed by doctors and researchers at a nonprofit hospital in Washington, D.C. Microsoft also hired two of the three doctors who created the software system as well as 40 members of the development team at Washington Hospital Center. Microsoft's vice president for health strategy, Peter Neupert, said "This represents a change in our strategy. This is the start for Microsoft. We're just getting started. I've had an opportunity to see how messed up the health care system was, and to really have an impact, you need a footprint like Microsoft's." The cHTS™ technology may be the software of the future that would be looking for the healthcare division of Microsoft.
Former Apple CEO, John Sculley, who had a few ideas concerning future healthcare, talked to The Guardian in May, 2012 what follows: "If you can take that data and then be able to analyze it, it means that the future of medicine is going to be able to make predictions and measure outcomes of patient health improvement at a level of accuracy and a level of personalization that we've never seen before,". The market for mobile health apps is expected to see a revenue growth from $230 million in 2010 to $392 million in 2015, according to Frost & Sullivan. This is a bit of a gold rush, though given the unregulated nature of health app development, there's a need for research and standards evolution in order to ensure its health apps actually are healthy. The cHTS™ technology is not a mobile application but allows the company to get the data, the components (more than 27 million data) and the analysis of appropriate therapy in a few seconds. It could become a standard of new developments for Apple or Oracle.
Google introduced in 2008 "Google Health" and announced its withdrawal in 2011. Google Health was a personal health information centralization service, sometimes known as personal health record services. The service allowed Google users to volunteer their health records - either manually or by logging into their accounts at partnered health services providers - into the Google Health system, thereby merging potentially separate health records into one centralized Google Health profile. Google had a lot of interest in developing a platform for the health sector. This failure could mark the need for Google to acquire a platform technology as the cHTS™.
On September 10, 2012 Zalicus announced good news, in a Phase IIb trial, Zalicus' Synavive passed its primary endpoint, improving patients' rheumatoid arthritis symptoms compared with placebo but the company has decided to stop development of the drug.
The Phase IIb trial demonstrated that patients treated with Synavive achieved a statistically significant improvement in signs and symptoms of moderate to severe RA compared to placebo, as measured by Disease Activity Score (DAS28-CRP), after 12 weeks of treatment, which represents a -0.9 change from baseline for Synavive (approximately 17% improvement) compared to a -0.5 change from baseline for placebo (approximately 10% improvement), but missed the key secondary endpoint of demonstrating a meaningful clinical benefit, assessed by DAS28-CRP, compared to prednisolone 2.7mg, the active glucocorticoid component in Synavive.
The company didn't release any information about whether Synavive beat the other active comparators, but it really doesn't matter. Even if the Food and Drug Administration (FDA) would approve Synavive with just placebo data, no doctor would prescribe it if it isn't any better than prednisolone, which is available as a generic. Shelving the drug is really Zalicus' best move for the future.
Zalicus' Fundamental Analysis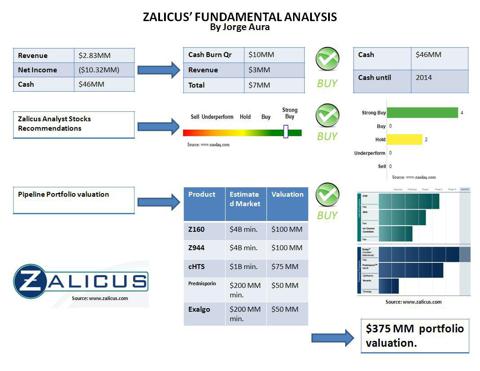 If Zalicus' value in the market is only $100MM currently, I think that it is vastly undervalued, as you can see in the chart above. Zalicus should be worth more than $300MM. By this technology and its ongoing developments I am with shares of Zalicus for long-term. Buy now and save in a safe place.
Disclosure: I am long ZLCS. I wrote this article myself, and it expresses my own opinions. I am not receiving compensation for it (other than from Seeking Alpha). I have no business relationship with any company whose stock is mentioned in this article.
Additional disclosure: Investors buy and/or sell at their own risk. I declare that I may day-trade any stock at any time mentioned in this article. For me "long" is until I sell and few tell you that. I do not "short" stocks and few tell you that too. I also get paid one penny per view from SA and other than being published by SA and my own private stock account, I have zero connection to Wall Street and few tell you that too.