In my years as an investor in the market, I never thought I could see a unique opportunity as The Wet Seal Inc (NASDAQ:WTSL) is offering us right now. The Wet Seal, Inc (WTSL) is a special retailer that operates stores and sell fashionable, contemporary apparel and accessory items for female consumers. In 2013, The Wet Seal operated with two segments: The Arden B and Wet Seal segments. However, on April 27, 2014, it announced the conversion of Arden B stores with Wet Seal Plus merchandise. This story was repeated with its competitors. Abercrobmie & Fitch (NYSE:ANF), Pacific Sunwear (NASDAQ:PSUN) and American Eagle Outfitters (NYSE:AEO) also in the past had to make changes in their market segments. The Wet Seal Inc (WTSL) conversion could be really positive. The company wanted to cut the wrong financial path that Arden B stores were following.
The company has good prospects with these changes. Recently, John D. Goodman, Chief Executive Officer, said: "With this process under way, our management team and Board of Directors will be focusing greater attention on our sweeping strategic initiatives, and this change positions us to take advantage of opportunities for growth within the Wet Seal brand. We are making progress against our strategic plan to enhance Wet Seal's product, merchandising, customer engagement and overall store performance, as well as drive growth in our e-commerce business. Importantly, our transition strategy for Arden B accelerates our opportunity to expand in the growing junior plus market."
Valuation
In the chart below you can see the first reason by which The Wet Seal shares could a small golden opportunity. Wet Seal has exceeded the MA 50 located at $0.93 with strong volume. The MA 200 is located at $2.07.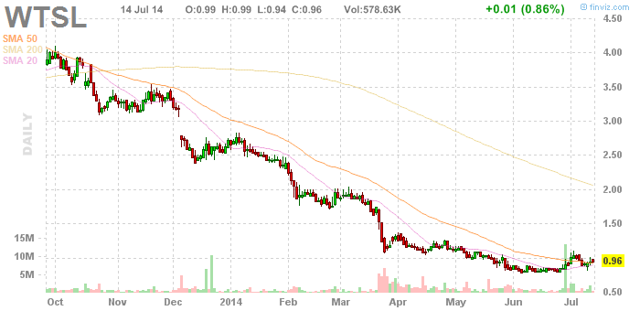 Source: finviz.com/publish/071414/WTSLc1dl1546.png
The second reason why The Wet Seal could a small golden opportunity is the average analyst consensus target price situation at $1.90. On July 3, 2014 The Wet Seal Inc closed at $1.02. The upside potential is close to 90% on current prices. But if you look at the last five years Net Income (NYSE:TTM) chart, we can see that The Wet Seal was in a worse situation during the early 2013.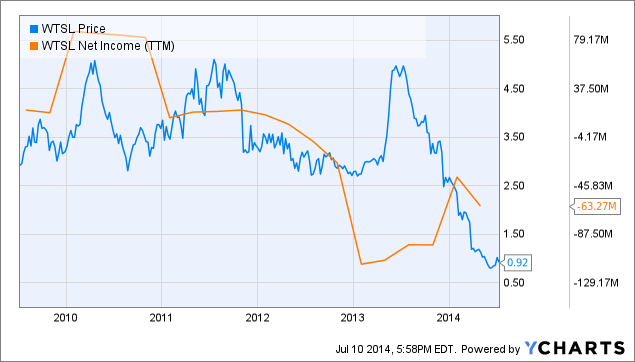 On July 10, 2013 The Wet Seal shares reached its maximum year level at $5.09. At that time, the economic situation of The Wet Seal was not better than today. Therefore, it means that the shares could reach those levels again in the long/medium term.
Insiders activity
In 2014, Wet Seal insiders have bought 195,120 shares. This situation shows their confidence in the company.
| | | | | |
| --- | --- | --- | --- | --- |
| Insider | Position | Buy Date | Shares | Trade Price |
| Rothstein Adam | Director | 2014-06-26 | 30,000 | $0,88 |
| Rothstein Adam | Director | 2014-04-14 | 20,000 | $1,12 |
| GILBERT LESLI R | EVP, Store and Operations | 2014-04-02 | 10,000 | $1,36 |
| Bajrech Kimberly | SVP/GMM of Wet Seal | 2014-03-31 | 10,000 | $1,34 |
| Shinn Debbie | SVP/GMM of Wet Seal | 2014-03-31 | 10,000 | $1,34 |
| GOODMAN JOHN D | CEO | 2014-03-27 | 42,016 | $1,19 |
| MILLS JOHN | Director | 2014-03-26 | 25,000 | $1,15 |
| Rothstein Adam | Director | 2014-03-26 | 48,104 | $1,15 |
Conclusion
The Wet Seal is a company whose shares could be above $2 at 2014. As you have seen, it is undervalued in comparison with its past situation in the last year. It is a unique opportunity to make big profits.
Disclosure: The author is long WTSL. The author wrote this article themselves, and it expresses their own opinions. The author is not receiving compensation for it (other than from Seeking Alpha). The author has no business relationship with any company whose stock is mentioned in this article.