Many investors search endlessly for the perfect stock or the right investment guru. Or they jump in and out of the markets in an effort to boost their investment returns. Some think this type of "active" trading is what investing is all about. Others are drawn into destructive cycles of greed and fear, enticed into the markets at relative peaks only to sell after markets have plunged. Both approaches can result in heavy losses and deliver subpar performance over the long run.
Fortunately, the search for return doesn't have to be so elusive. Here are three quick ways to boost your investment returns without increasing risk.
Cut Unnecessary Product Fees
The first thing you can do to boost investment returns is to cut unnecessary product fees. This is particularly important for expats in the offshore markets where fees on investment products average 2% or more per year and often include front-end fees of 3‒7%. The front-end fee is designed to compensate the financial "advisor" who sold the product. With some products, this fee is "hidden" in the other fund fees or in a bid-offer spread. Regardless of how the fee is deducted, it means that only 93‒97% of every dollar you contribute to a product is actually invested.
The heavily marketed insurance-linked investment schemes are even worse. These products may feature several layers of fees that often add up to 4‒5% of the total portfolio lost every year-and that is in addition to the front-end fees.
As the following chart shows, these fees can strip significant value from your portfolio over time.
Investment Fees Matter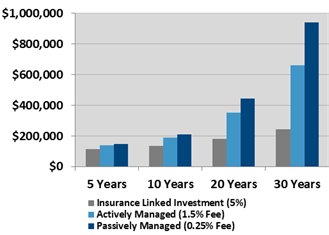 USD100,000 is invested in three identically allocated diversified portfolios, each earning an 8% per year average return before fund fees for periods between 5 and 30 years. The difference between the end values of each portfolio has to do with each portfolio's running fees. Offshore insurance-linked investments have the highest fees while passively managed exchange traded funds (ETFs) have the lowest.
Source: Creveling & Creveling estimates
If you are an expat, there is no need to rely on expensive bank and IFA-sold investment products. It is entirely possible to build a globally diversified portfolio using exchange-traded funds (ETFs) and low-cost index funds where total fund fees on the portfolio average 0.25‒0.35%.
Take Advantage of Tax-Sheltered Accounts
Making effective use of tax-sheltered accounts can also reduce tax on investment income and boost investment returns. How a portfolio is allocated among various taxable and tax exempt/deferred accounts is particularly important for Americans who are taxed on their worldwide assets and income. This can also affect citizens of other countries who may be taxed on investment earnings.
You do not need to replicate the same holdings in each account. To minimize tax, you should determine which investments are best held in taxable accounts and which are better off held in tax-sheltered accounts. There are some general rules of thumb for doing this, but the best mix will depend on your unique situation.
Typically, you want to put high-yielding fixed income or high-dividend-paying stocks in the tax-sheltered accounts. You may also want to place any funds held for short-term tactical reasons or traded frequently in the tax-sheltered accounts. This will allow you to buy and sell these funds without incurring taxable capital gains.
If you are an American, you should generally hold foreign stocks or funds that pay dividends in a taxable account to allow you to file for a foreign tax credit on your U.S. taxes to avoid being taxed twice on the same dividend. You can't claim a foreign tax credit if the foreign fund or stock is held in a tax-sheltered account, however.
Various studies have shown that the effective use of tax-sheltered accounts can boost after-tax portfolio returns by as much as 0.5% to 1.0%.
Stick with Your Plan
Trying to time the markets or succumbing to the destructive cycle of fear and greed probably destroys more portfolio value than anything else. The following chart shows the performance of a mutual fund from 2003-2012 along with investor cash flows in and out of the fund. The chart clearly shows that as the market and the fund rose higher and higher in 2007 it attracted an increasing amount of investor cash.
Chasing Fund Performance: Wealth vs. Cash Flows
(2003-2012)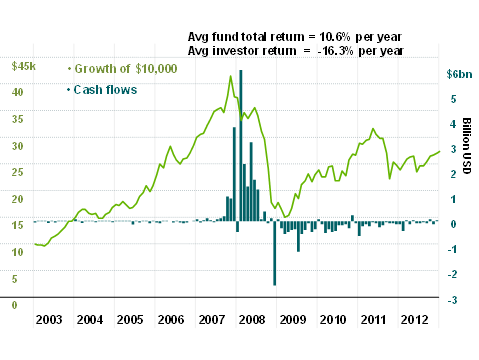 Source: Morningstar
When the market crashed in 2008, those fund flows reversed dramatically. The chart shows a typical pattern where investors are seduced into the markets after a period of strong performance, buying at relative peaks, only to sell after sharp collapses. This type of emotional investing typically results in investors buying high and selling low-just the opposite of what they should be doing.
In this example, the fund's performance over the 10-year period averaged 10.6%-not bad, considering the period includes the worst financial crisis in recent history. In contrast, the average investor in the fund had a return of -16.3% per year. This seems improbable, but this situation is played out repeatedly with investors all over the world.
The way to minimize this type of risk is to develop a sensible investment plan that is appropriate for your situation and ability to bear risk, and then stick with it through all market conditions.
The Only Free Lunch in Investing
There's generally no free lunch in investing. This means that you cannot increase your long-run investment return without a commensurate increase in risk. These three tips are the exception. In each case, you can boost your investment return without increasing the risk in the portfolio. The first two tips alone can boost your returns by as much as 2‒5% per year simply by eliminating unnecessary product fees and effectively using your tax-sheltered accounts. The last tip, while difficult to quantify, can add even more value and is fundamental to successful long-term investing.
Additional Resources
Find more articles by Chad Creveling, CFA, on Google+
About Creveling & Creveling Private Wealth Advisory
Creveling & Creveling is a private wealth advisory firm specializing in helping expatriates living in Thailand and throughout Southeast Asia build and preserve their wealth. Through a unique, integrated consulting approach, Creveling & Creveling is dedicated to helping clients cut through the financial intricacies of expat life, make better decisions with their money, and take the steps necessary to provide a more secure future. For more information visit crevelingandcreveling.com.