Dear Value Clients and partners;
It is great to be back to the office and see the market rise after long trip. I have bad habit of not checking stocks price during long trip. Stocks globally sported gains as investors shrugged off a fresh exchange of tariffs between the U.S. and China. Market recover just a little bit today, led by Industry (+1.25%), IT (+1.19%) and Finance (+1%). The rest of the sectors won't change much.
Today's Markets
Indexes : VN-Index 0.21%, HNX-Index 0.53%, Upcom 0.93%
Active : VPB, HPG, STB, SSI, CTG HNX: PVS, SHB, ACB, VGC, VCG
Index movers : Leader: GAS, TCB, MSN, VPB, MBB Laggard: VIC, SAB, NVL, PLX, CTG
Foreigner, Buy: VNM, STB, GAS, KDC, DXG Sell: VRE, PVD, VIC, HPG, MSN
Notice stocks : VPB, SSI, HBC, HSG, TCB, PVS, SHB, TNG, NVB, HUT
Trading volume : ~ 338.7 million shares
Trading value : VND 6,444 bil ~ 280.2 USD mil
Foreigner transaction Net: 2 mil USD Sell 27.3 USD million and Buy 29.4 USD million
Derivative market : Total contracts: 78,248 contracts, Trading value ~ USD 327.8 million,
VN30F1809@ 962.8; VN30F1810@ 962.7; VN30F1812@ 962.3; VN30F1903@ 961.5
Corporate update:
POW (VND15,300/share, +2%, market cap USD 1,5 billion). Electric output in the first eight months reached 14,832 million kWh, reaching 69% of the plan, revenue reached 21,655 billion, reaching 73% of the plan. Most of the factories exceeded their target, except for Vung Ang plant (64% revenue and 66% output). The reason is that the third quarter is the rainy season in the North, EVN gives priority to mobilizing electricity from hydropower plants. The Q3 earnings is not high as it is the rainy season and PVPOW is restoring the Vung Ang factory and the Ca Mau factory complex.
Funds for two projects NT3 and NT4: equity of about 8,000 billion, 3 banks in the country have guaranteed a limit of 10,000 billion, the rest are considering foreign or domestic loans.
Transfer to HOSE: PVPOW has submitted the file to VSD to finalize the list of shareholders and then complete the file to send HOSE, scheduled to transfer to HOSE in early November. After the HOSE, POW is eligible to participate in the vn30 index in the July/2019 review.
PGV-GENCO3 (VND 13,800/share, +0%). Electric output in the last 3 months of the plan is 8,303 million kWh; total 2018 production is estimated at 32,390 million kWh (+ 8.3% yoy). Revenue for the whole year is expected to reach VND38.475 billion (+ 9.8% yoy), expected profit (without exchange loss) of VND1,491 billion (+ 11.1% yoy). (the exchange loss in 8T is about 745 billion)
Investment capital in 2018 is 19 trillion VND. Projects Long Son Power Center project with a total capacity of 3,600 mW, including 3 power plants and one LNG supply terminal with the capacity of 3.5 million tons per year, is expected to be put into operation in 2024-2028 period, the total investment of the project is about 4.4 million USD Vinh Tan solar power project * capacity of 42 mW, is currently organizing EPC bidding and is scheduled to start in November and go into operation 6/2019.
Change to joint stock Company, then strategy sales. The potential fund from Qatar and South Korea have been working to attend, however, due to the high sales value of deal, which requires a minimum period of 9 months to finish.
Comments:
Next phase to trade war. Pres. Trump announced last night that the U.S. would impose tariffs on $200B worth of Chinese goods starting at 10% but increasing to 25% on Jan. China retaliated with planned 5%-10% tariffs on $60B worth of U.S. goods and earlier last week, China increased in VAT rebate for 397 categories of exports.
It seem that the market rally thanks to the relief as the United States set the initial tariffs at 10 percent, rather than the expected 25 percent. Export oriented sectors which believed could be benefited from the trade war, such as textile (VGT, TCM, TNG), Aquaculture (IDI), logistic (VSC) performed quite well this month. If you think terrified news would scare the market but it actually goes up. Then, there is absolutely something here.
ETF review Q3 2018. As expected, the most significant change this time is the fact that both FTSE Vietnam ETF and Vaneck Vietnam ETF include VHM. They will net sell most of the other stocks. More detail calculation here on page (Link)
Graph of the day: Share of Chinese and US export by destination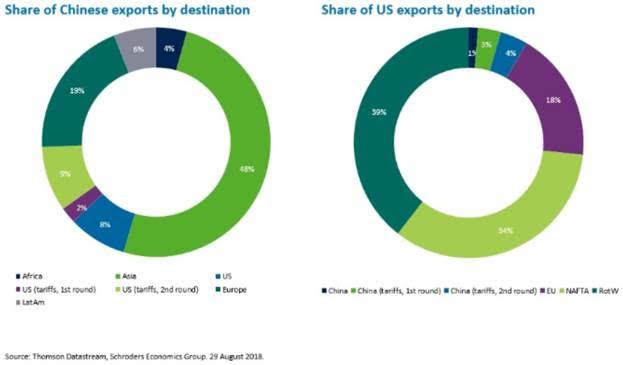 Source: Thomson, schroders
Cheers,
Tran Thang Long (Mr.)