Summary
Oil prices aren't low because of a glut in supply, but because of speculation that's led to a spiral downwards in futures. This in turn has affected energy companies.

Energy companies are outperforming in the short term, even as crude consolidates. This could mark a bottom in crude prices.

Crude is a good long-term investment. One way to play this is through the energy sector, which is still attractive at these levels.
Why are Prices Low?
The general thesis on why oil futures have fallen more than 47% from their high in June is that OPEC has been flooding the market with cheap crude, in a plot to decrease the allure of investments in renewable energy. There is a lower world-wide demand for oil due to natural gas production increases in the U.S. This cannot be the main factor, as supply has increased commensurately with demand, and even those moves are in the low single digits. Saudi Arabia has realized this and has not cut back on production, because the last time they did that, the only result was a reduction in their market share in addition to lower revenues.
There is some credibility to the notion that OPEC would like to slow investment in renewables or natural gas, but this should be thought of as a byproduct of the underlying reason prices are low, and not a cause. Investor expectations of oil prices as expressed in futures bets have wildly diverged from reality, essentially a replay of the 2008 oil price spike in the other direction. During the Great Recession, oil futures were trading upwards of $140 a barrel (compared to around $60 at the time of publication). There was no large divergence in supply and demand, but rather a virtuous cycle created by short-term traders trying to squeeze the last penny. Just as oil prices nosedived afterwards, I am expecting a move to the upside in oil, which should translate into a large move in energy.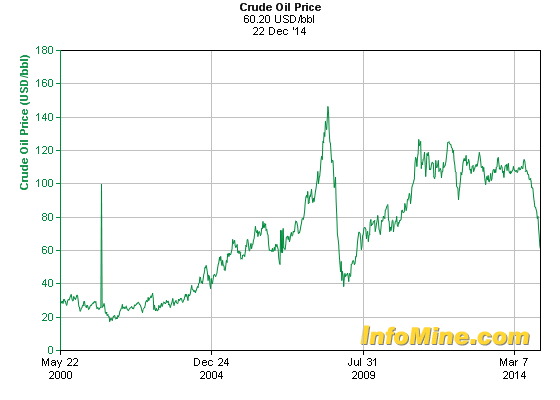 Energy companies have so far followed in the footsteps of crude. The logic is that lower crude prices will squeeze margins of companies involved in exploration and drilling. Halliburton is trading hands at just north of $40, off significantly from $74 just four months ago. These stocks are afflicted by the same mentality that has caused crude prices to fall. The scapegoat is high frequency trading algorithms, which are programmed to simply trade the correlation between oil and the energy sector.
A Bottom in Crude
The Energy Select Sector SPDR ETF (XLE) rallied almost 8% the week ending Dec. 19, compared to 2-3% for the S&P. The XLE is not expensive by any measure, though, as it is still off from its high of $101 in June. A rebound in XLE could be indicative of an expectation of a reversal in crude prices. Oil (USO) has consolidated since Dec. 16 at the $56 level, and are poised for this reversal. These technicals are not nonsense, as some would say, because I am treating crude as a commodity with little regard to actual supply and demand. After all, this is how it has been trading in the last month, and for a large part of the last decade. Oil futures are also at a support level tested in early 2007.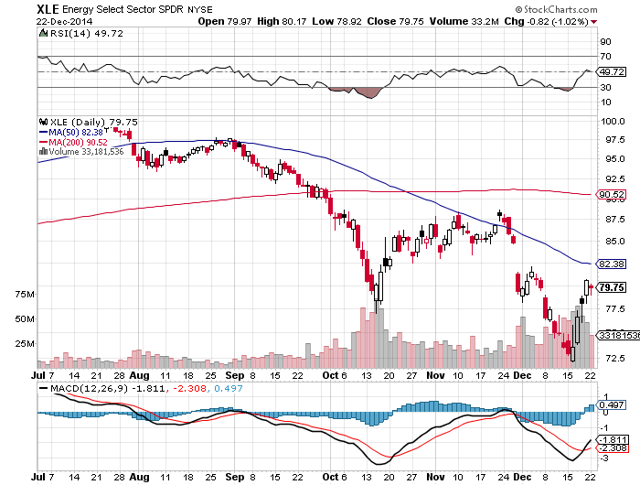 Crude is already at levels not seen since five years ago, with almost no fundamental changes in supply, demand, or geopolitics. This dip will prove short, and there are a number of catalysts that could cause a spike higher. Any tensions in the Middle East or elsewhere will translate into higher crude prices, considering that news about Russia and Islamic State have subsided in recent days.
Even in the short term, crude has some upside. It will probably experience a dead-cat bounce just as energy did last week. My short term target is around $75, considering the lack of fundamental changes in the oil market. This number is justifiable, considering we were there less than a month ago. Crude also tends to move upwards at a slope similar to or even steeper than the fall, since most of the move upwards is caused by fear.
Long-Term Considerations
We will always need crude. Natural gas is no longer attractive at these low prices, and long-term investments in shale are being put off due to the short-term attractiveness of simply relying on oil for energy. Renewable energy research projects will probably also be delayed, especially considering that they were infeasible even five months ago, when oil was higher. Crude oil already serves as the basis of the world economy in many ways, and it is becoming scarcer every day. Crude is expected to run out after around 40 years, if current rates of consumption continue. For the long-term, the logic is simple: crude is an essential resource that will be running out in the not-too-far out future, it is at its lowest levels in five years, and there have been little fundamental changes in the market.
Oil and the Energy Sector
There are multiple ways to play this move. Buying oil futures is a direct method, as is trading options on oil ETFs like USO. However, it is one could also speculate on the energy sector, which is already experiencing the rebound I mentioned. Consider Halliburton (HAL), which has been a laggard. One could simply buy shares, or one could use options. Implied volatility is quite high, so selling premium is a good idea. A credit put spread may be better than buying calls: it has limited risk, and takes advantage of high IV. A naked put is better if you are willing to own Halliburton and are willing to accept more losses. A similar setup can be employed on the XLE.
Conclusion
Oil is still a fundamentally sound commodity, and it is not afflicted by a glut in supply, contrary to popular belief. The only reason it has sold off is because of futures speculation, and those moves tend to reverse, as 2008 showed us. A bottom is near, especially considering that the XLE has reversed significantly in recent days ahead of oil, which has been consolidating. This is an opportune moment to enter energy or oil, considering the long term prospects of the commodity. To achieve this, sell premium on individual shares or ETFs in the energy sector.
Disclosure: The author is long XLE.