Ever since the financial collapse of 2008, swing trading has become a much more popular avenue for investors to make money. What is swing trading exactly? Swing trading is when an individual buys or shorts a stock and holds for at least a few days to at most a few weeks. Swing trading differs from day trading in that stop losses are usually a little more lenient so the trade can take shape, and one does not need to keep their eyes on the trade every moment of trading hours. Swing trading is perfect for individuals who work during some market hours or have classes, etc. I have developed a very simple swing trading strategy that has been used and tested by not just myself, but countless other well known traders. Going forward, I will present a variety of charts showing exactly what I look for when entering a swing Long position. So, let's begin! Setting up your chart: For charting, I use stockcharts.com. Stockcharts.com is a great site that allows you to save countless charts and annotate in a very detailed way. I recommend that anyone serious about trading get at least the basic stockcharts.com membership which I believe goes for roughly $15 a month. All of the indicators I use for swing trading are through stockcharts.com. You can use stockcharts for free, but none of your settings or charts will save. Now, when on stockcharts.com, type in the symbol FRO in the symbol catalog box and press go. The following chart set-up will appear.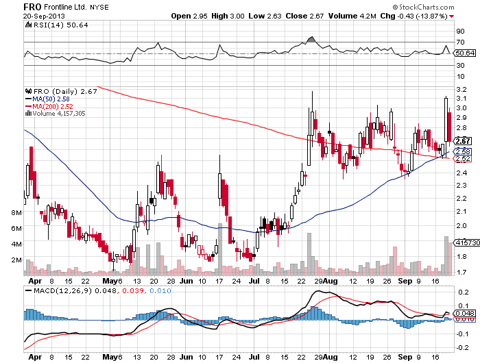 This is the basic set-up given by stock charts. It consists of a daily chart, the RSI above the chart set to 14 and the MACD set below the chart at 12,26,9. The first thing we will do is scroll down to chart attributes which is right under the chart. Under chart attributes at the bottom you will see boxes labeled full quote, price labels, etc. All but full quote and price labels will already be chosen. Click on Price labels and full quote as well as all the other boxes and click update. Your chart should now look like this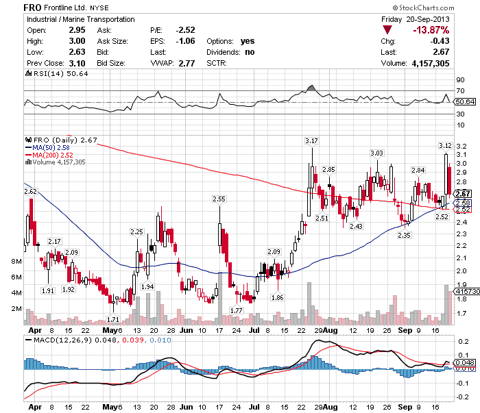 As you can see, stockcharts has now added in for us price labels which make it incredibly easy to spot support and resistance for a stock. Now, the next step in setting up your chart is to scroll down to overlays. Under overlays, the default set-up is moving average simple 50 and moving average simple 200. Keep those, but under the third un-chosen box which says none, choose moving average simple. It will now appear as another 50MA. Erase it and put in 20 and click update. Your chart will now have 3 moving averages (20, 50 and 200) and will look like the following...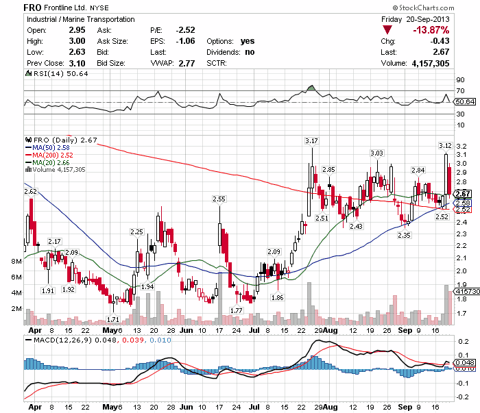 Now, we will move onto indicators. Under the indicators section towards the bottom, the default setting is RSI with parameter 14 and position above, and the MACD with parameter 12,26,9 and position below. First, we will leave the RSI, however we will change the parameter to 10 instead of 14, and we will adjust the position to below. Secondly, we will leave the MACD as is. Third, we will add under the third selection which says none the slow stochastic as the indicator with parameters 14,3 and position below. Now, for those without a stockcharts.com membership, this is the most indicators it will allow you to add. It is sufficient, but I prefer adding one more. The fourth indicator we will add is the MFI with parameter 12 and position below. Your chart should now look like this...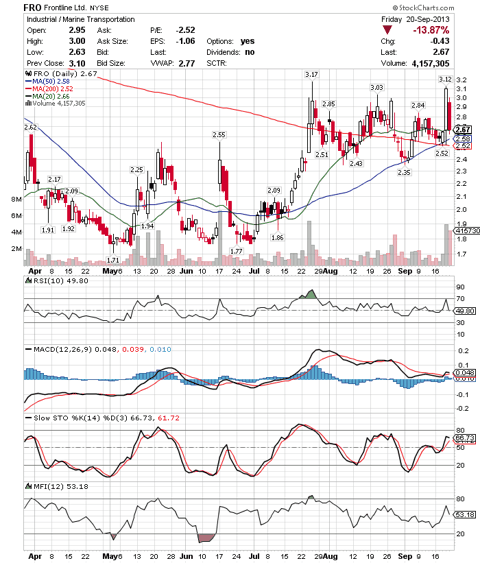 Our chart is now set-up. One final thing I prefer to do is change the color of the chart to make it easier to see. Under chart attributes choose color scheme. There are a variety of colors to choose from, however I prefer mohave. Click the color you prefer. My chart now looks like this...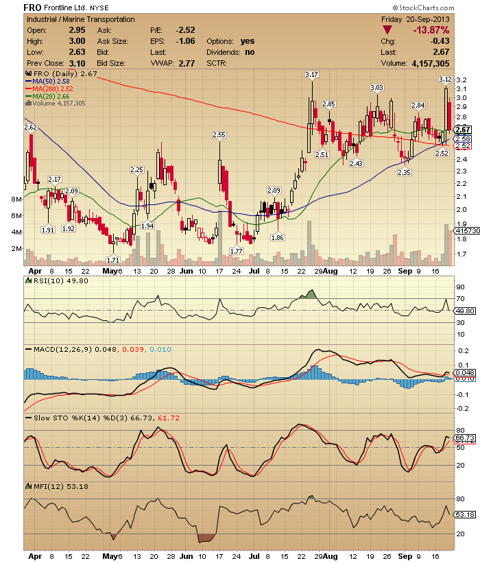 Spotting basic channels: The most effective type of swing trading in my opinion is channel trading. Channel trading is when you trade stocks which have very predictable chart patterns and form essentially a channel. The reason I have chosen FRO as the chart to use for this example is because it has established a very simple channel which can be traded for profits. I have traded FRO countless times and seen great returns. First, when looking at your now set-up FRO chart, the first thing to do is to label levels of support. Support are previous unbroken lows which a stock will tend to bounce off of. On the FRO chart, there are 2 key areas of support we will target on the daily chart. I have labeled them with a green line under chart annotations and they appear as follows...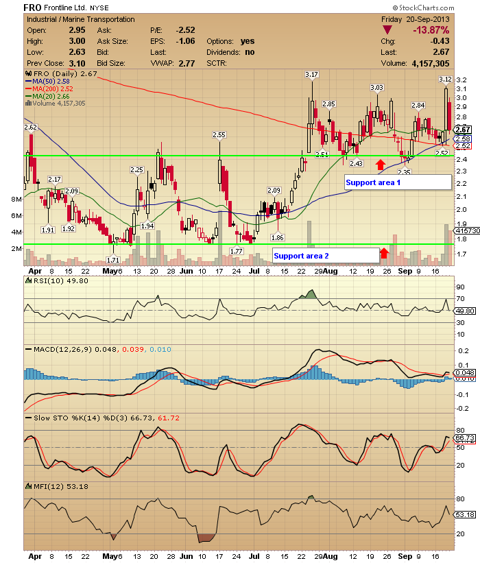 Support areas will not usually be an exact price on the daily chart, but will be within a price area. Now that we have labeled areas of support, we must label areas of resistance. Resistance is unbroken high's which a stock will tend to reach, then re-trace. I have labeled the area of resistance for FRO with a red line. It appears as follows...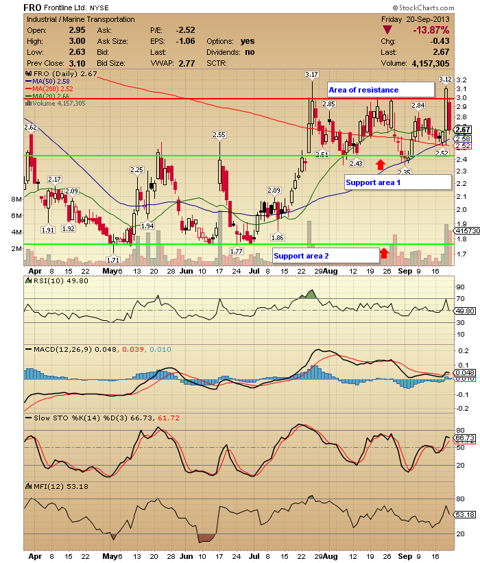 Looking at the chart now, we can see a clear channel that FRO is now trading in from roughly the $2.45 range to the $3.00 range. We can also see a previous Channel FRO traded in from the $1.75 range to the $2.50 range. Our new first area of support was a previous area of resistance that was broken. Now that we have labeled 2 channels on FRO, lets take a look back on entries I made using this swing trading channel strategy. We will first look at the first channel we spotted. I have labeled lower channel support and upper channel resistance (now the support area for the second channel, thus it is now labeled upper channel support. Should read upper channel resistance), and it looks as follows...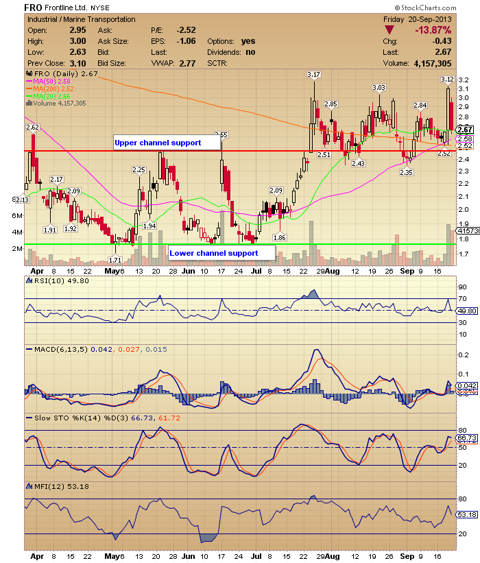 We can clearly see that FRO had bounced off the $1.70 area before, so naturally as FRO approached the $1.70 area again, it was time to start paying attention, particularly to our indicators as they can signal the potential reversal. Using indicators to Confirm Channel Reversal: We have set-up our chart, labeled FRO current support and resistance areas, and spotted 2 channels that FRO has traded in. 1 it is currently trading in, and 1 it previously traded in but broke out of by breaking the upper resistance line, which now serves as support area 1 for our current channel. Lets look back in time and walk through step by step exactly what I was looking for in FRO. First, I spotted FRO by simply going through and looking for plays which traded in clear channels. Looking further back on FRO we see that it had a history of bouncing off the mid $1.70 area multiple times. I began watching FRO in mid may after I noticed it had bounced twice off the $1.80 range and rebounded up towards the mid 2 range. I have circled exactly what I noticed in the following chart...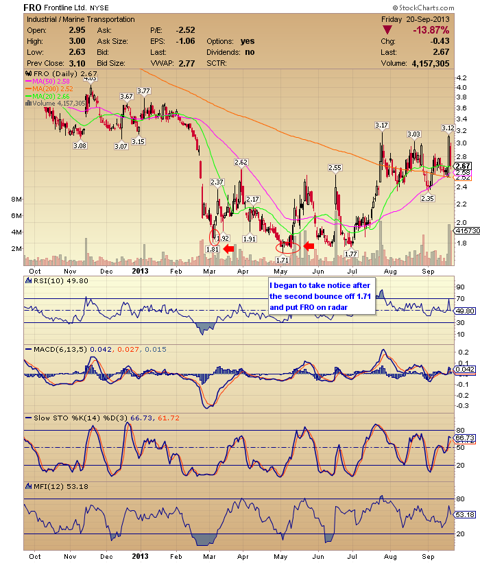 I drew in a line to signify the support area and patiently waited to see if FRO would pull back to that area. Sure enough, it began pulling back around mid May. What followed next is the main reason why it is crucial to incorporate both the chart channel and indicators as a confirmation mechanism. Notice as FRO pulled back, it saw a mini bounce off the upper $1.80 area. Channel traders recognize that a stock will not always bounce exactly off the lower line, so many may have entered FRO as soon as it began to bounce thinking this was the reversal. However, as you can see, FRO began again coming lower. This could have been avoided by simply using the indicators we have set up. Examining exactly how the indicators were set-up on this mini bounce would have caused us to not enter the trade. It is vital that all 4 indicators are in agreement, not 3 of 4 or 2 of 4 but 4 of 4. Will this at times cause us to miss trades? Yes. No system is perfect. However, the trades we do enter have a much higher rate of success. The following chart shows exactly how the indicators were set up while the mini bounce was occurring...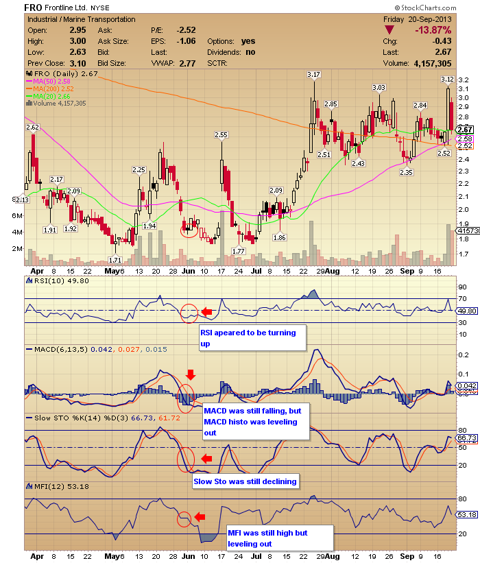 As you can see, one could have made the argument the RSI was ready, but the MACD, Slow Sto, and MFI were not. So a good trader would have sat on their hands and waited. The mini bounce was short lived and the stock began coming lower towards the lower channel support area. Now, the indicators were really taking shape. The key was not to wait for the indicators to hit bottom, but to also begin changing their trend direction and begin turning up. As FRO came down, we can see in the following chart that all 4 of the indicators started sending buy signals around June 10th, and a good trader would have entered in that area. No trader is perfect and we cannot always spot the exact bottom, but the signal was sending a buy in the upper $1.70 area. I purchased near the bottom of the circled Red candle around $1.80 and set my stop loss at the lower support level of $1.71. The next day FRO actually dipped down to around $1.77, but began turning up. The following chart shows what I was seeing in both the channel and the indicators...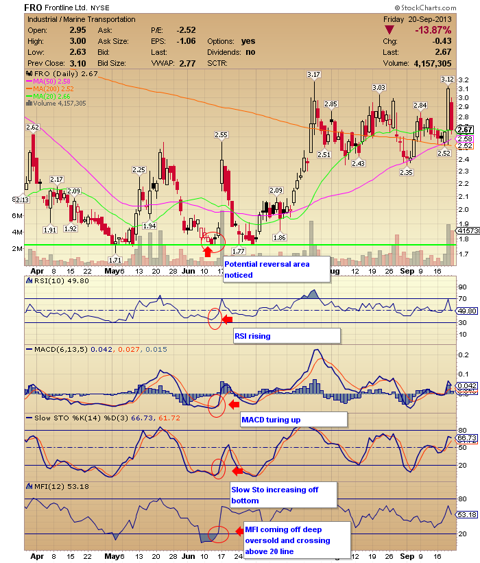 My goal with the entry was to sell in the $2.10 to $2.20 range. As you can see, the stock shot up nicely after bouncing off the lower channel and I sold in the $2.45 area for a solid gain. However, FRO again began pulling right back after bouncing off the upper channel line so it was placed right back on my watch-list for a potential buy in the $1.80 area again. Sure enough, on June 24th it came down and hit right off the $1.77, however looking at the indicators, they were not ready. So, I patiently waited and in the beginning of July the indicators sent a but signal and I entered the trade. The chart gives the details...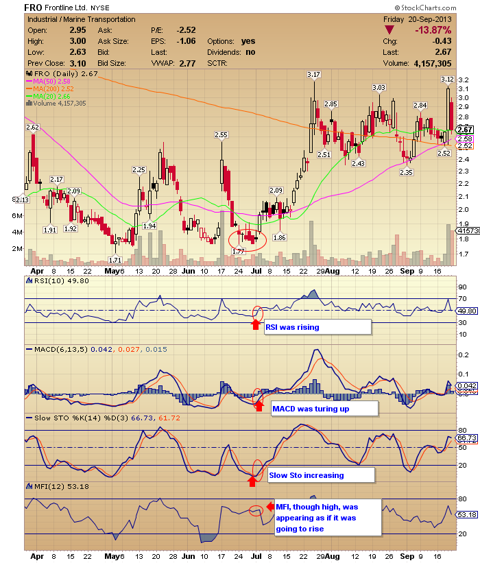 This time, FRO took a little longer to play out, but by using a rising stop I was able to hold through the consolidation in the $2 range and eventually sell at $2.40 for another nice win. The rules for selling can be applied just as for buying. If all 4 indicators begin to strongly turn against you, it may be time to exit. Conclusion: I hope this simple summary of my swing trading strategy helped. This is just the first of many articles to come on this strategy and I intend to go much more in depth in the future with a variety of charts. Throughout the week I may post charts using this strategy which are potentially setting up for buys. Have a great day, and good luck with your trading!
Disclosure: I have no positions in any stocks mentioned, and no plans to initiate any positions within the next 72 hours. I wrote this article myself, and it expresses my own opinions. I am not receiving compensation for it. I have no business relationship with any company whose stock is mentioned in this article.
Additional disclosure: The advice in this article is neither a recommendation to buy or sell any particular stock using the strategy given. Such a decision must be made by the owner of said stock.