YRCW has been a hot stock of late, similar to TSLA. The equity has had an explosive move. Thus far YTD, YRCW is up 435%. This move has come in only 48 trading days. Is this just a short squeeze or is there a fundamentals reason the stock has tacked on 30 points?
The rally started on May 3rd 2013. On this day, the company posted its first operating profit for the first time in six years. At the time of the release, the short interest in YRCW was roughly 10%. According to Schaeffers research, the short interest in the stock has since doubled to roughly 20%. The short interest chart and closing price chart is displayed below.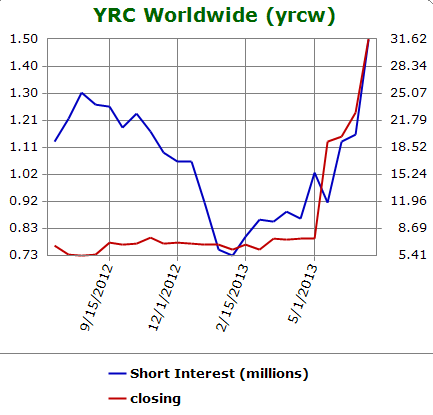 Fundamentally, the company is not for the faint of heart. The firm has been on the brink of bankruptcy for the last few years. In order to stay listed on the NASDAQ the stock has done a number of reverse splits. The stock never traded in the thousands, the high historical price is simply a result of the splits.
YRC Worldwide is a holding company that, through wholly owned operating subsidiaries and its interest in a Chinese joint venture, offers its customers a wide range of transportation services.
Disclosure: I am long YRCW.