Introduction
Planes nowadays are packed with addicted users brandishing Wi-Fi-equipped smartphones and tablets with long battery lives. Twitter, Facebook, LinkedIn, and other social networks demand an always-live connection. Netflix, YouTube, and other streaming services has vast numbers of viewers, which require in-plane connectivity.
GOGO (NASDAQ:GOGO) provides in-flight Internet, entertainment, text messaging, voice and a host of other related services to the commercial and business aviation markets. Gogo has nearly 2,500 commercial aircraft equipped with its services on eight major airlines. More than 6,800 business aircrafts are also flying using Gogo's service.
Why does the opportunity exist?
Gogo reported a non-GAAP loss of $(0.32) per share in Q2, 2015, that was a bit larger than the $(0.24) loss reported in the year ago period. Revenue rose 22% year/year to $121.2 million, which also was a bit shy of expectations. This has caused the stock to crater, providing an opportunity to buy into this stock.
I believe this setback is temporary for several reasons and although this stock is a bit speculative, if the thesis plays out, this stock will provide a significant return in the next 2-3 years' time frame.
GOGO's products
GOGO operates mainly in commercial and business aviation areas. GOGO's products in the commercial aviation are
Gogo platform: Gogo's in-air platform gives travelers information, services, and entertainment while the airlines are able to display airline-specific information.
Gogo Vision: Gogo Vision enables customers to wirelessly stream content such as movies and TV shows from an onboard server to Wi-Fi-enabled laptops during flight.
Gogo Text and Talk: Gogo Text and Talk lets flyers send and receive text messages using their own smartphones, numbers and contact lists. In September 2014, T-Mobile US announced a new agreement with Gogo to provide customers with free unlimited Wi-Fi text and multimedia messaging while on board a Gogo Wi-Fi-equipped flight from a U.S.-based airline.
U.S.-based Gogo Wi-Fi partner airlines include Alaska Airlines, American Airlines, Delta, United, US Airways and Virgin America.
In the commercial aviation areas, GOGO provides real-time, in-air customer care, to operational support including network and portal operations, passenger bandwidth management, and ongoing maintenance. Traffic aware strategic review requests (TASAR) could save time and millions of gallons of fuel per flight.
What are the triggers which will drive the stock higher?
2KU
Just having a connection on a plane is not sufficient in today's market. Customers - passengers and the airlines - have a voracious appetite for bandwidth and it shows no signs of slowing. Gogo uses the air-to-ground (ATG) connectivity technology and thanks in part to the low per-bit rates of that service has managed to grab about 50% of market share in NA. Per bit price becomes even more significant as bandwidth consumption increases and satellite-based solutions have historically had trouble competing on that front.
Gogo's ATG network is presently a cellular based network that has more than 160 towers in the continental U.S., Alaska and Canada. The towers are cellphone towers that have been outfitted to point their signals at the sky rather than along the ground. The aircraft picks up the signal through a receiver installed on its underside. When it reaches the aircraft, the data signal is distributed throughout the cabin via a Wi-Fi system. Gogo's ATG-4 service has enhanced the existing network (ATG) and improves per aircraft capacity through the addition of Directional Antenna, Dual Modem and EV-DO Rev. B technologies. This new platform is backwards-compatible and allows for upgrades to existing ATG systems through low-cost retrofits. ATG-4 deliver peak speeds from current performances of up to 3.1 Mbit/s to up to 9.8 Mbit/s per aircraft. This bandwidth is very low as it gets shared on multiple devices on the plane, making it impossible to watch live television or do any streaming on the plane. Mind you this issue is not unique to GOGO, but all vendors including Panasonic (OTCPK:PCRFY) and Viasat (NASDAQ:VSAT) face this.
Enter 2KU.(Picture from GOGO website)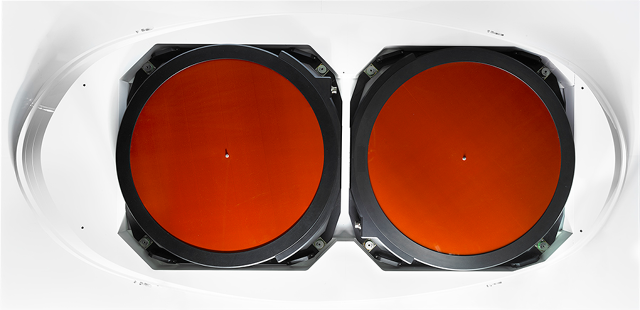 2KU is the company's next generation antenna. It's expected to be commercially available by the end of 2015. 2Ku employs two low-profile, highly efficient satellite antennas (one for transmission to the aircraft and the other for transmission from the aircraft) that provide twice the spectral efficiency of GOGO's current Ku-band service. Its thin profile also results in less drag and fuel burn for the aircraft. Its 2Ku satellite antennas can be used in conjunction with all Ku-band satellites in operation today. GOGO expects 2Ku to provide peak speeds of up to 70 Mbps to the aircraft, with peak speeds of up to 100 Mbps expected following the introduction of spot beam satellites. At those speeds, 2Ku should allow passengers to watch live television. GOGO said it achieved what it describes as a key milestone to get 2Ku ready for commercial launch by receiving the first of two required STCs. GOGO expects to obtain the second required STC in Q3 and launch 2ku service later this year. 2Ku will eventually be line set with both Airbus and Boeing.
Price elasticity
Capacity remains the biggest challenge for Gogo. The company manages that situation today by raising prices to decrease consumer demand. Revenue per session increased more than 10% year-over-year for the fourth quarter even as the take rate held flat. Gogo expects to continue that approach to its solution until such time as it can deploy more 2Ku aircraft or get new ATG spectrum allocated and implemented.
And so, while Gogo is aggressively keeping prices higher today in order to control demand, it is doubtful that the eventual increase in bandwidth and commensurate drop in per bit cost will trickle down to the consumer. Michael Small, GOGO's CEO has said,"[P]ricing per byte will clearly come down significantly when you bring more capacity. What happens per session or per passenger, we'll have to see."
In short, Gogo connectivity may become faster for consumers, but there is no guarantee that it will be cheaper. That could prove to be very beneficial for Gogo's bottom line over time, but obviously means a hit to passenger pockets.
Opportunities
GOGO has largely 3 segments
Commercial Aviation - North America (CA-NA).
Business Aviation (BA)
Commercial Aviation - Rest of World (CA-ROW)
The CA-NA Segment revenue rose 22% YoY to $75.6 million (62% of total revenue). GOGO ended the quarter with 2,249 aircraft online, up 49 since the end of Q1. Average monthly service revenue per aircraft online, or ARPA, increased to $11,324, up 13% YoY, driven primarily by connectivity service price increases. Segment profit margin climbed to a record 15% in Q2, up from 10% in Q2 2014. Changes in pricing, Growth in Gogo Vision revenue, Regional jet additions are all impacting ARPA positively.
Similarly for the Business Aviation segment, total segment revenue increased 17% YoY to $43.3 million (36% of total revenue) with a margin of about 41%. There is a huge opportunity here with internet of things. At the forefront of this revolution will be the world's business jet aircraft fleet with an increasing myriad of sensors to monitor systems and provide real time offload of data over a connection that is increasingly becoming an essential aircraft system. This will improve the anticipation of aircraft critical issues and perhaps will be just as important to make sure the drinks are the correct temperature in the galley; with the right connection, this may well be managed from somewhere other than the galley.
But the real opportunity lies in Rest of World (CA-ROW) segment, as this is very small and just getting started. It had Q2 revenue of just $2.3 million, but that was up nicely from $1.4 million in Q1 and $0.3 million in 2014. GOGO ended the quarter with 148 aircraft online, an increase of 32 aircraft from Q1. Also, there are more than 400 aircraft awarded but not yet installed. That GOGO is getting traction in this segment with 2KU becomes clear from the GOL order. In June 2015, Gogo signed a definitive agreement with GOL, a leading Brazilian airline and Gogo's first South American airline partner, under which Gogo will provide 2Ku in-flight connectivity, wireless in-flight entertainment and our new IPTV solution Gogo TV, on GOL's entire fleet.
(click to enlarge)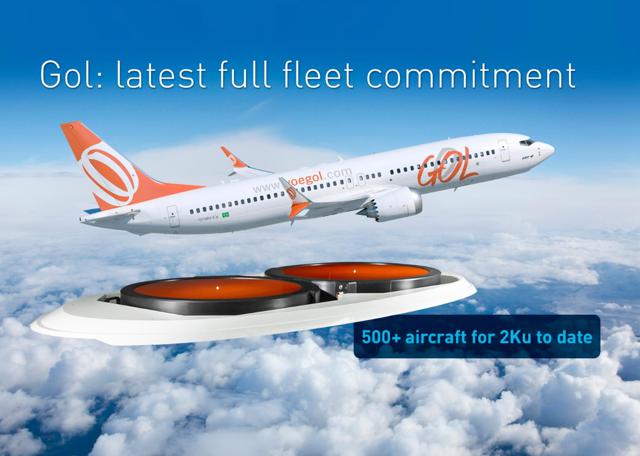 Picture from GOGO investor's day deck
Valuation
(All numbers in thousands)
EV= Equity + Debt - Cash= 119,516+564,510-392,117=291,909
EBITDA = 25,000
EV/EBITDA=11.67
For the telecom wireless sector, companies have an average EV/EBITDA of about 10 indicating slight overvaluation in this case. However most of the companies in this sector are behemoths like AT & T (NYSE:T) and Verizon (NYSE:VZ), so it is difficult to compare GOGO with these companies. I think this is reasonably priced in the 16$ range, with room to grow, if the company gets its right with 2KU. Once 2KU is launched by end of this year, capex should go down, resulting in increased free cash flow. The company has guided an adjusted EBITDA at the higher end previously announced guidance range of $15 million to $25 million. Of this, the company has already done $20 million in EBITDA in the first half. Even after considering increased engineering expenses in the second half of the year, primarily for STCs related to the commercial launch of 2Ku with airline partners, along with next gen ATG development and line set, company is most likely to meet or beat this estimate.
Conclusion
Overall, investors appear to be a bit disappointed with Q2 results. In my opinion, it was only a small miss relative to analyst expectations. However, after two beats in a row, the small miss is being viewed negatively. The stock has not been doing much over the past year and GOGO investors are starting to get a little tired waiting for a step up in financial results.
However for people with patience, GOGO with a win rate exceeding 70% since 2Ku's announcement and with systems flying over 50% of global broadband connected commercial aircrafts today, Gogo will lead this revolution and ultimately investors will be rewarded.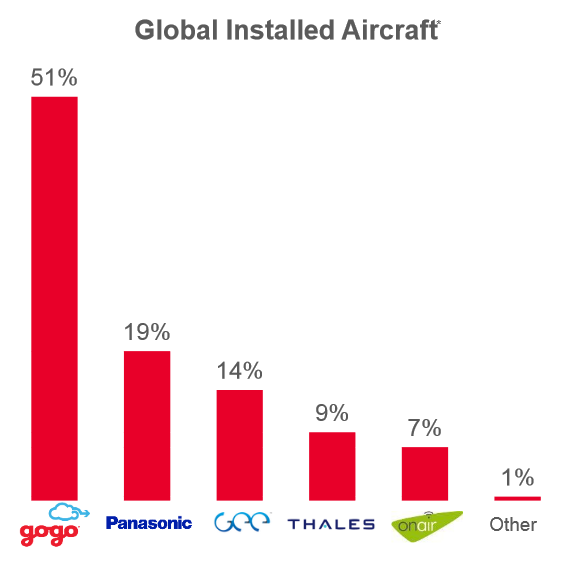 Additional disclosure: Thank you for reading the article. Investors are always reminded that before making any investment, you should do your own proper due diligence on any name directly or indirectly mentioned in this article. Investors should also consider seeking advice from a broker or financial adviser before making any investment decisions. Any material in this article should be considered general information, and not relied on as a formal investment recommendation.
Disclosure: I am/we are long GOGO.
I wrote this article myself, and it expresses my own opinions. I am not receiving compensation for it (other than from Seeking Alpha). I have no business relationship with any company whose stock is mentioned in this article.