For the last 12 years, I have been consistently saying "Sell Stocks and Buy Gold." Anyone who has followed my advice since then, has seen their investment return over 500% while the major stock indexes are flat to down, particularly when counting for inflation. One of the first questions that I am often asked is, "What do you think about silver?"
I say, "I love silver. I especially love selling it."
For years, there has been talk of a conspiracy to hold silver prices down through selling futures contracts short. You may count me as one of those conspirators.
When I am trading futures, silver is the perfect hedge against downside in gold. It moves essentially in tandem but, particularly to the downside, is about twice as volatile as its yellow cousin.
This is a pattern that that has consistently held true since I began recommending gold in 2001. Selling silver short against gold to hedge downside is a strategy I developed as a Commodities Futures Broker beginning in 2002. For all intents and purposes, it is currently my primary strategy now as a Commodities Trading Adviser.
That being said, I do think you could buy silver here with a very high expectation of a solid return over the coming 18 months to three years.
You just have to remember to sell your silver.
There is nothing worse than seeing your investment return hundreds of percentage points--as silver did between 2008 and 2011--and then see it collapse 70%--as silver has done since September 2011.
So, remember to sell your silver. Probably around $100 per ounce, which I think is a reasonable target between now and 2016.
I also think that the iShares Silver Trust (NYSEARCA:SLV) is a good way to go. I generally recommend taking delivery of physical gold as a primary strategy, but the bid/ask spread is really too high in the physical white metal for my tastes; making it harder to sell.
And I want you to remember to sell your silver, which I think you could buy today and through $33 per ounce.
A couple of things about the silver chart that are really making me confident in this recommendation:
1. The market is more deeply oversold than it was in 2008 as indicated by RSI. That marks an extreme low in sentiment and the RSI is now beginning to turn up.
2. The MACD has been ticking higher as the market has been ticking lower. This creates a positive divergence and a buy signal.
3. With silver around $20 per ounce--a major support level going back to 2007--it would be very difficult to push it lower. Even for conspirators such as myself.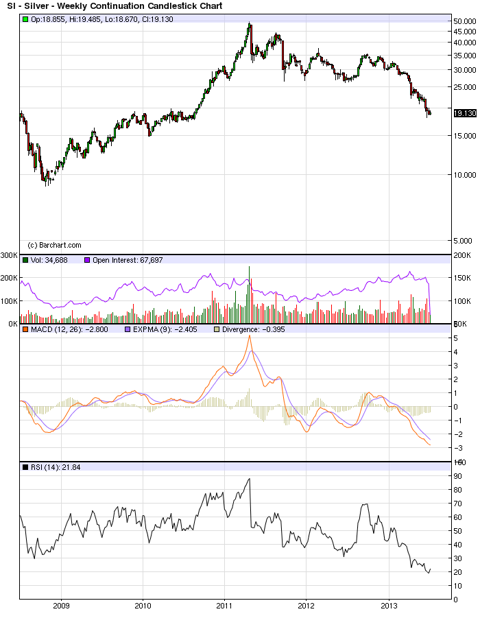 Disclosure: I have no positions in any stocks mentioned, and no plans to initiate any positions within the next 72 hours. I wrote this article myself, and it expresses my own opinions. I am not receiving compensation for it (other than from Seeking Alpha). I have no business relationship with any company whose stock is mentioned in this article.
Additional disclosure: I am long physical gold.