Introduction
In my last blog post titled, "Over $50 Million In Profits For 50 Members Of The Contrarian In 3 Stocks", I articulated how less than 50 members at The Contrarian had over $50 million in profit in three equities.
This is an update, and we actually have over $50 million in profits in a single position, which as you might have guessed is Antero Resources (AR).
Before getting to that, I want to post the latest compliment that I received today.
Latest Member Compliment
Personally, I really believe that true happiness comes from helping others.  Over the years, I have had my successes that positively impacted investors, and I have had my failures that negatively impacted investors.  Nobody feels worse when there is disappointment than me, as not only do I invest to an extreme degree in my own cooking, but in addition to that, I really want everyone to succeed, and it hurts to my core when that does not happen.
Fortunately, sticking to our thesis through some very trying times has started to pay dividends.  That is where this latest member compliment comes from today, which is listed as follows.
@ KCI research... I have been a member of your investing service for a couple of years. I want to share with everyone that Travis' research going all the way back to 2018 is unbelievably outstanding. My knowledge has grown 5 fold in the space just from pouring over his previously published members only articles. The valuation work and detailed analysis of individual basin characteristics is second to none and to be honest... is better than many professional energy consulting firms research reports I have read over this time. Simply put... Travis will probably be the single largest reason why I am able to retire early... His service is invaluable...and it doesn't matter if you disagree with his research... just having it to offset/make better investment decisions is the idea. There is nobody better at his size in the industry... The fact that unaccredited investors have access to him is truly unbelievable.

- Myk3077 Posted on 1/13/2020
This past several months, I have received a number of compliments that referenced the positive impact I have made through the investment research that we are doing.  This is extremely gratifying, especially after such a difficult journey.
A Crescendo Of Compounding Profits
Researching Antero Resources has truly been a collaborative, community group project that showcases the value of Seeking Alpha to deliver alpha.
To chronicle this group effort, a retired IBM (IBM) engineer that is a member of the Contrarian set out to quantify our ownership in Antero Resources and other targeted equities.
Even thought this project just began late last week, meaning there are still more members to report, and those that wish to remain anonymous do not have their shares counted (and I know from personal conversations this additional ownership is substantial), we have tabulated an ownership position for 43 members of The Contrarian that collectively have over $50 million in profits in Antero Resources shares as of the close of the market on Tuesday, January 12th, 2020. I partially detailed this breakdown in a blog post over this past weekend, however, I am providing more high level information below.
Here is the overview detail of our partially disclosed member position.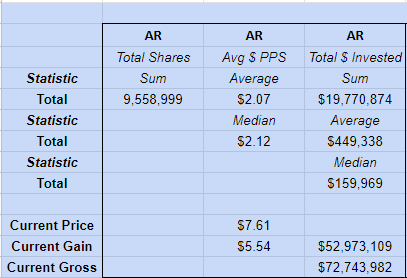 (Source: The Contrarian, data current as of market close on January 12th, 2020)
Members can get additional detail upon request and through a documentation process that is cloud based through Alphabet (GOOGL), (GOOG), however, the high level data is instructive, as it illustrates that members of The Contrarian own 3.6% of outstanding shares of Antero Resources, with a cumulative profit in Antero Resources shares over $52.97 million through Tuesday's close. These shares were purchased over a variety of time frames, with a concentration of purchases in the spring of 2020.
To get to this position, there were many hard hours put in by members of our group, including during the dark days of March of 2020, and April of 2020, when unfounded restructuring rumors circulated regarding Antero Resources. The panic selling that marked the 2020 lows presented what turned out to be a golden opportunity.
Commodity Equities Are The Place To Be Right Now, Though Investors Should Expect Volatility & A Pullback Too
Commodity equities have been left behind in the disinflationary dominated market environment from 2011-2020.  That has started to change significantly over the past two months, highlighted by our member performance in Antero Resources.  Even with these terrific returns, commodity stocks are just getting started, in my opinion.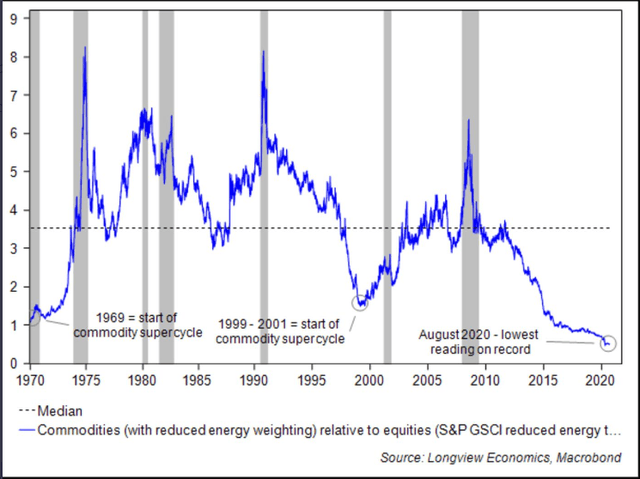 Acknowledging the terrific run of near-term performance, inflection points can be notoriously volatile, so investors need to expect volatility in the weeks and months ahead, and large pullbacks, as we have seen in precious metals equities from their 2020 highs, including Barrick Gold (GOLD), are par for the course when trades become overheated.
Importantly, commodity equities will generally benefit from higher interest rates, which I believe are finally on the horizon. On this note, the iShares 20+Year Treasury ETF (TLT) lost 4.1% last week (the week ending January 8th, 2020), as the 10-Year U.S. Treasury Yield moved above 1.1%, though interest rates have run-up a lot, and they too could correct lower in the short-term.
Remember all of those investors who are advocating lower for longer rates? That may not be the case, and the yield curve has actually been steepening for over two years.
Adding to the narrative, many investors operating in the commodity equity arena have had to run a long/short portfolio to simply survive the past seven years, however, the irony today, is that the most operationally leveraged companies, which are generally the short positions in these aforementioned long/short portfolios, have the most upside return potential at historical inflection points.
We are seeing that right now, and two specific public examples that I have highlighted include U.S. Steel (X), which I wrote about here, and Occidental Petroleum (OXY), which I wrote about in this public article. If those two are too high octane for you to look at as a investor, consider Wells Fargo (WFC), which has some of the same out-of-favor characteristics, as I detailed in this recent article.
In summary, investors chase performance, that is just part of human nature, and many investors are chasing performance in the hottest sectors today, including the technology sector, even though energy equities (XLE), (XOP) are outperforming technology equities (XLK) over the past two months by a substantial margin. Having said that, market participants will generally not consider the out-of-favor equities today, even acknowledged industry leaders, until they have a long-run of outperformance.
I witnessed this first hand with Realty Income (O), which I have written about this year here, in late 1999 and early 2000, trying to sell this position as part of a portfolio in my role at Charles Schwab (SCHW) and Chicago Equity Analytics, yet very few investors would even consider it. This was the case, even though Realty Income shares had roughly a 10% dividend yield back then, and most investors have it as core holding today, with a dividend yield that is less than half what it was, and a narrowing growth runway after a twenty-year good run of strong performance.
I also witnessed the same thing when I was buying out-of-favor REITs, specifically General Growth Properties, and First Industrial Real Estate (FR) in late 2008 and early 2009, which I chronicled in this article that I published on February 27th, 2020.
Use Panic Selling To Your Advantage - Highlighting A 14% Yielding Model Portfolio - KCI Research Ltd.
The key to build real wealth, IMO, is to own concentrated positions, ideally buying into panic selling, in the best outperforming companies of the next 20 years, not the best performing positions of the past twenty years.
For help in that endeavor, consider a membership to one of my research services. On that note, I am continuing to offer a 20% discount to membership (I am extending this through January due to popular demand and my desire to help the greatest number of investors and then pricing will return to the normal levels) to "The Contrarian" (past members can also direct message me for a special rate). Remember, this compliment when it comes to pricing.
Indeed, I subscribed to The Contrarian despite a high price compared to other Seeking Alpha subscriptions, because it is explicitly anti-herd or orthogonal to the herd. Indeed, the more I study it, the more I find The Contrarian subscription price to be a relative bargain.
And this one on pricing too.
Before 2020, I thought it would have been crazy to pay over $1,000 for a subscription. Yet after reading one of Travis' articles and a 2-week trial, I realized that the value offered here, vs other services, is substantially greater.
Additionally, I am once again offering a limited time 30% discount for the first 10 new members (I expect these slots, some of which I view as a stepping stone to "The Contrarian", to fill up fast as they have done previously) to a host of research options, including a lower price point. If you subscribe to a premium option, I will set-aside time for a personal phone call to get up to speed. To get these offers, go here, and enter coupon code "january" without the quotes.
Reach out with any questions via direct message.
Via my research services, or another avenue, please do your due diligence, and take advantage of what I believe is a historic inflection point, which I believe will supersede 2000-2002, and 2000-2007, in the growth-to-value rotation.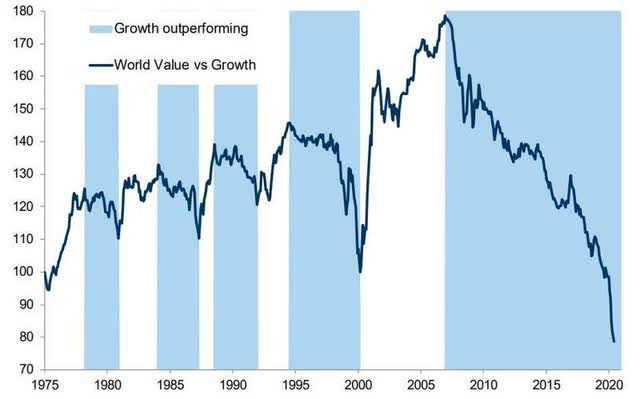 Best of luck to all,
Travis
P.S. Resilience is perhaps the most important ingredient to be successful in life, and in the markets. Keep that in mind right now.