After a third leadership change and weeks of speculation, Australia's Prime Minister Kevin Rudd announced the 7th of September as the date for the Australian Election. The election between the Kevin Rudd led Labor Party and the Coalition party (combined Liberal and National parties) led by Tony Abbott will hopefully signal the end of one of the most tumultuous periods in Australian political history, even though the economy came through the GFC relatively unscathed.
The 5 week election campaign is assured to be a volatile period for Australian business, exposed to each party's election promises and policies including on the mining industry, carbon taxing, education, illegal immigration and the slowing economy. For one company in particular, the outcome of this election has a significant impact on their business with the fortunes of the company and its shareholders becoming inextricably linked to the election outcome.
McMillan Shakespeare (ASX: MMS)
MMS is a market leading provider of salary packaging and vehicle leasing administration services in Australia that had a market capitalization of $1.14 billion in early July. Fast forward to July 25 and MMS's share price has fallen 51%, having lost $550M in market capitalization and facing significant uncertainty for the future of its operations.
MMS is a well run company, having built a strong reputation for sustained earnings and market share growth, having achieved CAGR of 40% over the past 7 years.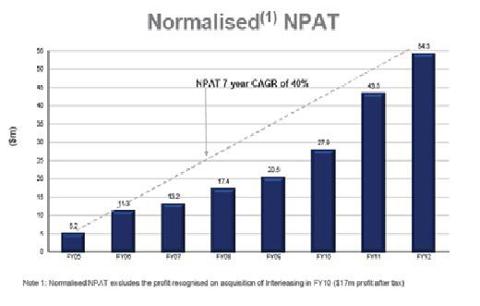 Source: McMillan Shakespeare Macquarie Securities Conference Presentation
In 2010, MMS acquired Interleasing and Holden leasing, taking on increased debt and equity to transform the business to a leading provider in the lucrative vehicle leasing industry. In Australia, vehicle leasing as part of salary packaging allows individuals to claim a tax deduction for the private use of business cars due to allowances in the Fringe Benefits Tax (NYSEARCA:FBT).
Change to the Fringe Benefits Tax
On July 16, Prime Minister Kevin Rudd announced proposed changes to the FBT as part of an early marketing campaign. The change requires individuals who use a salary sacrificed vehicle for personal use must maintain a vehicle log book to prove its percentage of business use. These changes are to take place from April 1, 2014 in an attempt to recoup an estimated $1.4 billion p.a.
Under the current system which has been in place for over 20 years, 20% of the vehicles cost was subject to FBT, regardless of its percentage of personal and business use.
Representatives of the local car industry were stunned by the announcement, stating that no consultation has been had with workers, unions or industry leaders nor any draft legislation presented. This "pre-election promise" has the potential to affect thousands of lives who depend on employment from the salary packaging, leasing and car industry in Australia. More interestingly, this contrasts with a recent announcement where the government pledged $200M in funding to support the fledgling car industry and a 100% Australian made target to government owned cars.
Differing Political Views
Opposition Leader Tony Abbott opposes any amendment and given the number of jobs at risk in both the salary packing and leasing industry and the at-risk car industry in Australia his government would seek no changes to the Fringe Benefits Tax.
Affect on McMillan Shakespeare
Shortly after that Kevin Rudd's announcement, MMS's share price went into freefall, losing 8% before the company requested a trading halt to assess the impact of the proposed changes on the company.
MMS announced that based on FY13 preliminary accounts, affected revenues are ~$81M, or 24% of total group revenue.
A company, which had a market capitalization of $1.14 billion lost $550 million in market cap during a period of frenzied trading when the trading halt was lifted, with its share price falling from $18 on July 11 to close at $8.80 on July 25.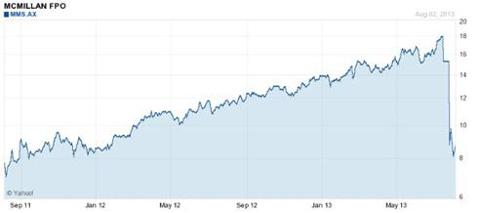 Source: Yahoo Finance
Outcome
Fortunately for MMS shareholders after an initial spike in support for Prime Minister Kevin Rudd as preferred leader latest polls suggest Tony Abbott remains preferred leader, with the Coalition's favorite at 44% compared to Labor's 37%. These levels are comparative to those when Kevin Rudd was removed as Prime Minister in 2010.
While 5 weeks is a long time in politics, MMS management and shareholders face a nervous wait on the outcome of the election, with the future of a strong company and many jobs taking a backseat to the outcome of an uncertain election.
The value of this company with an outstanding historical performance has been eroded by political uncertainty. It provides a timely warning with the current global uncertainty when assessing companies that have built a business exploiting laws and regulations and how quickly and dramatically fortunes can be impacted by external factors.
Disclosure: I have no positions in any stocks mentioned, and no plans to initiate any positions within the next 72 hours.