Using social media to measure the sentiment of a particular company or stock is a great way to boost your investment performance, get an edge over other investors or simply add to the due diligence you are already doing. In this post I will teach you the basics of measuring the social sentiment of your next investment idea.
Using Twitter
Let's say you are interested in purchasing Nike (NYSE: NKE stock and you have already done your basic fundamental stock research, the next step is to see what people are saying about Nike on Twitter. You could do a search for a particular Nike product or the name Nike. In my rough example I used the new Nike product called the FuelBand.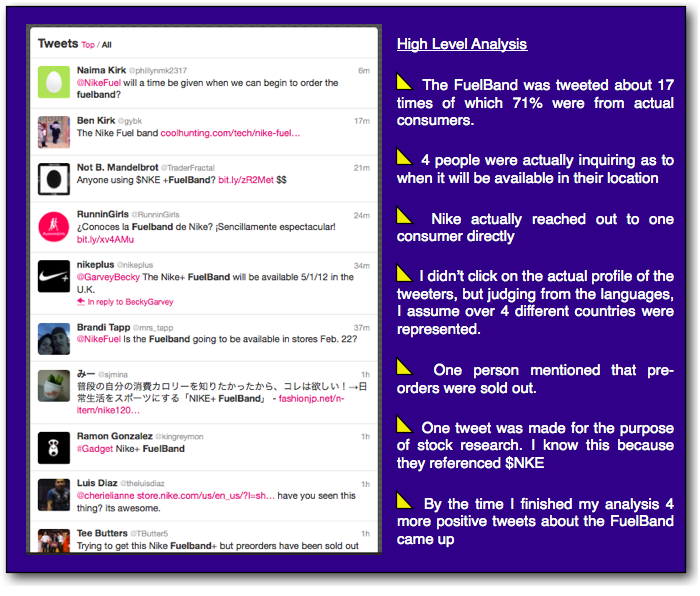 Drawing conclusions from the above chart you would say that Nike is about to have a hit with this new product, they can't make enough and it will be a global phenomenon. OK OK, I am getting ahead of myself. You can't 100% draw any of these conclusions, but I hope you get the idea of how to take into account social media sentiment when doing stock research.
Using Google Insights
Another interesting way to measure social media sentiment is to use Google Insights. You can can use different filters by regions, time and categories to get a sense of the web chatter around the FuelBand. The below chart was a simple 30 day time frame for the entire world and all categories.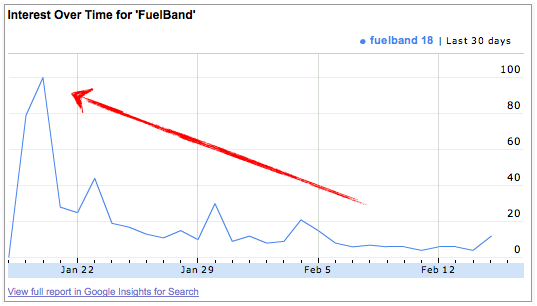 Using Facebook
I had to scroll all the way back to Jan 22nd to find Nike's latest post about the FuelBand. Funny enough, the date coincides with the increase in interest from the Google Insights chart. I hope by now you can pretty much get an idea of what I am trying to do when I say "measure the social sentiment". There sure are a lot of Likes, Comments and Shares.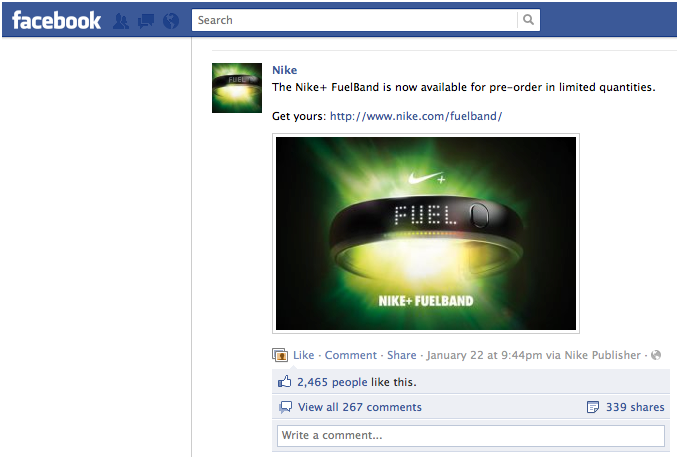 Using Pinterest
This is a relatively new social media sharing site, but with over 10 million unique views I wanted to see if I could learn something.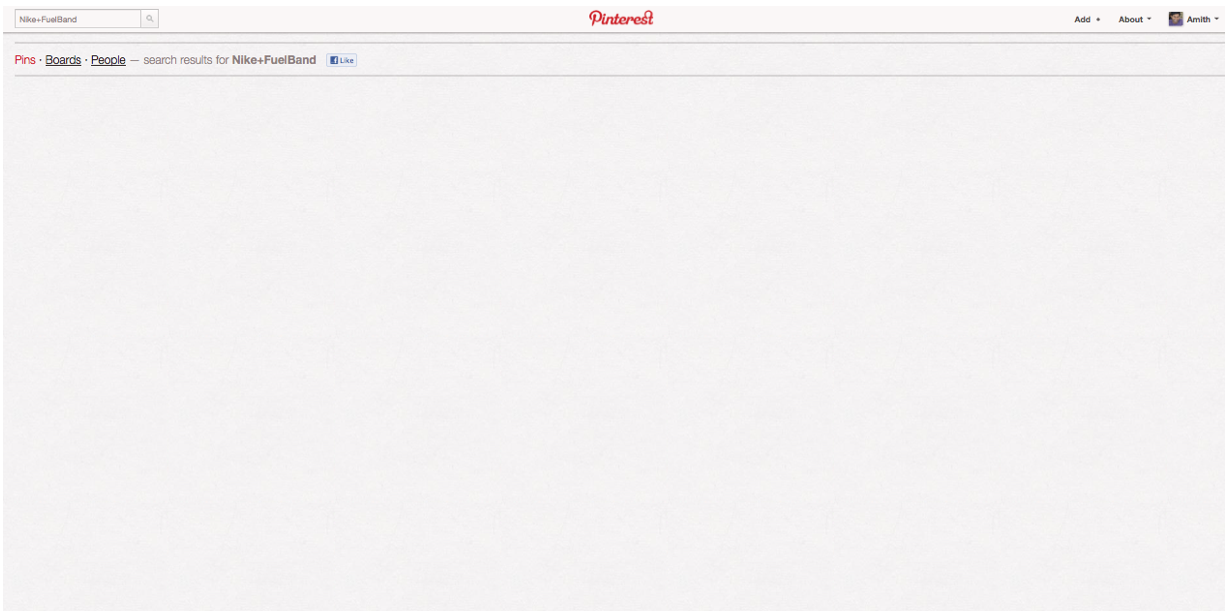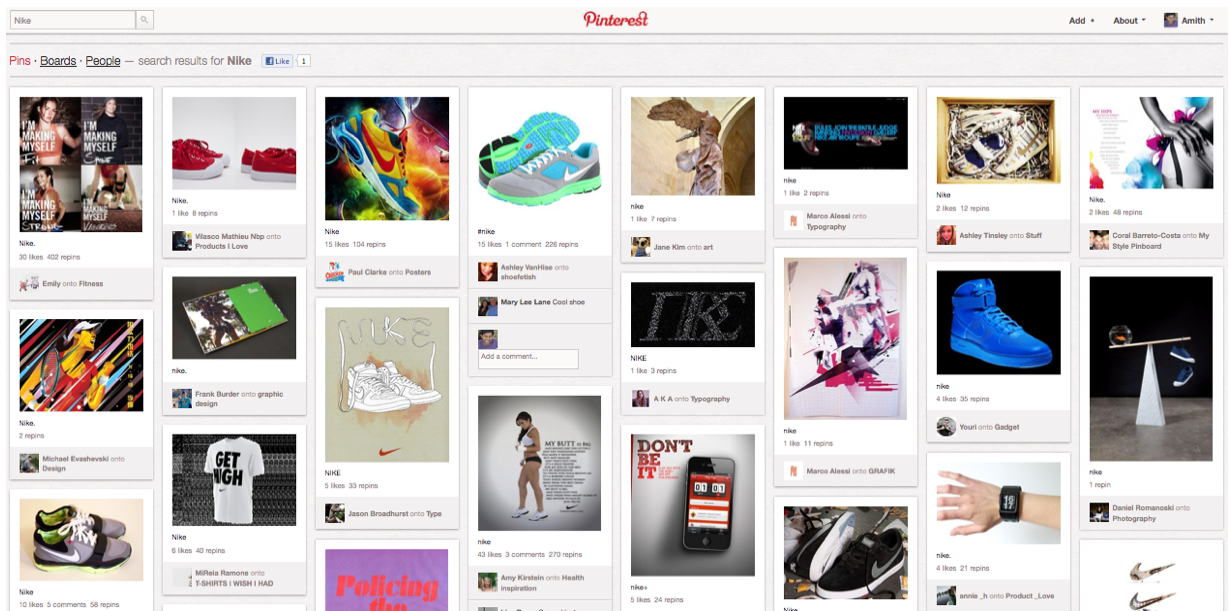 When I typed Nike in the search box, I got thousands of results where people were sharing Nike products. However, when I typed FuelBand or Nike+FuelBand I got nothing. What conclusions (if any) can I draw from this? My first reaction is that women don't like the Nike FuelBand, because Pinterest's user base is overwhelmingly female. But I am not ready to say that until I do more research.
I hope the above gave you a good sense of how a beginner investor can take advantage of Social Media sites to measure social sentiment when thinking about purchasing a stock. I hope you enjoy creating your own research projects, please share them with other investors if you do.
In closing, I want to acknowledge two resources I relied upon. I would have never thought about incorporating social media sentiment into my stock research and I feel it is appropriate to give them credit. The first resource is a gentlemen named Zachary Miller. I purchased his book Tradestream your Way to Profits: Building a Killer Portfolio in the Age of Social Media and really got a good sense of how to approach my research. Another resource I stumbled upon is a company called Topsy Labs. Topsy actually has access to the full twitter firehose and they are putting the data to good use. Though what they do is extremely advanced, you can definitely pick up some low hanging fruit by reading their white paper called Predicting Stock Prices Using Social Sentiment.
Let me leave you with this note as well: You will never be able to predict a stock price by only using social media sentiment, YOU MUST do your research and learn how to properly invest.
Please comment and give me your thoughts. Better yet, please let me know of more creative ways investors can measure social media sentiment when doing their stock research.
@amithbrahm
Disclosure: I have no positions in any stocks mentioned, and no plans to initiate any positions within the next 72 hours.