There are different ways of presenting information. In this article, readers are presented another approach to the launch of Victoza's television campaign and how Arena investors have something to look forward to in the coming weeks and months ahead.
As many have read, Victoza's television advertisement (view here) is a single example of what many pharmaceuticals eventually do: advertise on television. It is an injectable and like most drugs, the longest part of the commercial focuses on safety issues. The obvious relevance to the rest of the obesity sector is that it is currently not approved by the FDA for weight loss though it may cause some weight loss.
The overlap with Victoza and Belviq is fascinating in that Belviq not only is FDA approved for weight loss, but carries the other advantage of helping people with diabetes.
Are television advertisements important? Absolutely. Could you imagine if Eisai planned to launch its first television ad Superbowl weekend? Any and all means of advertising have their own impact. However, in our computer age it's been shown that a wide variety of media well beyond television can be highly effective such as internet advertising.
What is wrong, however, is when a hit-piece is put out that incorrectly interprets Arena's announcement that direct marketing of Belviq has now started. I won't even link that article to give its author credence, but Arena was making an announcement about direct marketing starting, not simply announcing that their drug was being advertised in Oprah's magazine (which happens to have a wide readership).
As long investors have been following Belviq's roll-out, there is a pervasive stream of articles particularly coming from SA that imply that there is only one way to evaluate Belviq's progress--that view coming from either shorts and/or a day-trader's mentality that buys and sells on targets is that Belviq's roll-out has been less than stellar. This view is continually presented based one person's opinion of a hockey-stick chart. Now of course anyone is entitled to an opinion just as my own article here is opinion based, but regarding Belviq's roll-out I am of a differing, opposing opinion.
First, having day-traded myself (not Arena), I would simply argue that the current pps makes Arena a very strong buy for investors use to the volatility of the biotech sector. All stocks eventually retrace, so why anyone with a day-trader's mentality wouldn't be buying Arena simply doesn't make any sense.
Second, day-trader talk aside, as a long I am not disappointed with the roll-out to date. Just last evening, I was perusing a few advertisements as Eisai is only at the front-end of direct market advertising.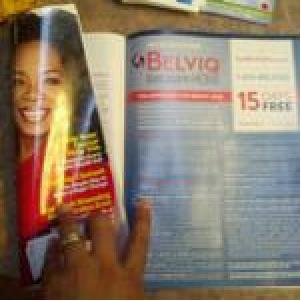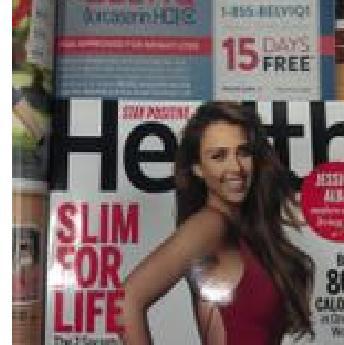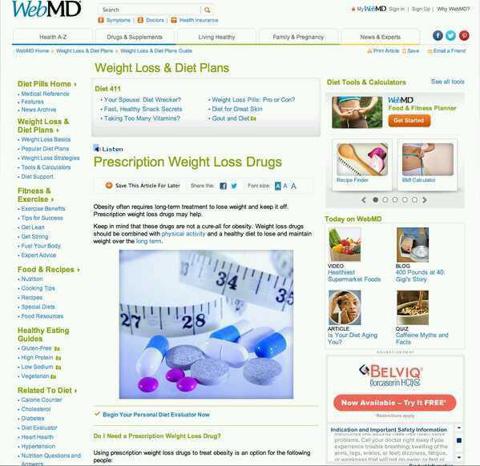 Two of the above are print media and one is internet media; I've also found other internet media as well (WebMD and there are others). No doubt in time a television will come. Meanwhile, excited responders of Belviq are telling their own stories.
But Eisai's approach has not only been wise, but it has respected the legal directives of governing authorities in the U.S. During the first three months, Eisai targeted a select pool of endocrinologists and physicians most likely to prescribe Belviq. These doctors are the key gate-keepers that other physicians (like your family doctor) look to for first-year results. I know this for a fact having interview my own physician.
Factually, people working in the biotech sector know that Eisai wasn't allowed to launch direct marketing until Belviq had been in the market for three full months. So what this means is that Eisai is on schedule. The free 15 day supply and $75 coupon has been another great advertising strategy to gain early market penetration.
From a long investor viewpoint, Eisai is right on target with the roll-out of Belviq. Regarding that roll-out, I've been tracking Belviq's progress and have noted positive growth month-month with weekly fluctuations. As it stands, Belviq has either crossed the 5,000 weekly script mark if adjusted and/or is very close to doing so; meanwhile, refill traction has been steady and growing--in fact, a very close look at last week's Symphony numbers suggests it may be entering that new phase where it begins to pick up even more steam. Here is my own chart: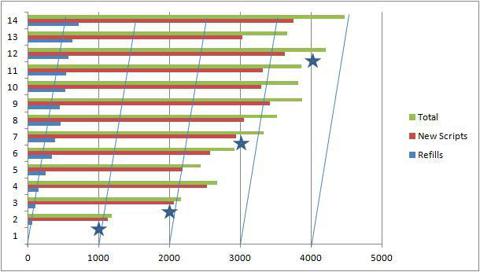 What do you see? I see steady refill growth closing in on 1,000 scripts per week. I see steady new script growth and potentially signs of break-out growth in weeks 12 and 14 with Labor Day weekend in between. If this or next week's script growth IMS and/or Symphony new script growth breaks 5,000 (unadjusted) then this could be the beginning of an exponential move coming around the same time of the launch of direct market advertising.
You see the above chart communicates a very different story. It represents that Belviq is on a steady course to overtake its current competition Qsymia. Factually, Belviq is not competing with Victoza's in the obesity space (maybe the diabetes space) and Belviq is also not competing with Contrave because it is not FDA approved. These are the facts.
Finally, a chat board member on Yahoo has repeatedly published a very good comparison of Belviq's roll-out versus other popular drugs already on the market. This data is through week #14 (except where noted): credit to Sharoncl and Sharonconk on Yahoo chat board.
Belviq 4,471
Qsymia 2,490
Bydureon 3,182 (week #9)
Victoza 7,505
Vascepa 2,415
One last comment: May it be remembered that Eisai recently announced that they now expect 50% insurance coverage within the first year versus their earlier expectation of 30%. My question is: Why aren't SA authors covering this story? The market is yet to digest this news as well as the data I'm presenting in this article and others.
I encourage any SA reader to FOLLOW ME since SA has chosen not publish my articles. You are welcome to copy this article, point a link to it, and/or post it elsewhere. Thanks!
Disclosure: I am long ARNA.
Additional disclosure: Unpublished instablog article. The author states that users are free to copy, paste, and share this resource.