Carlos Guillen
Stocks initially had a strong start to today's session, and everything was looking copacetic for the first hour, but then the slide began, began.
Investors had been partly enthused by news that the U.K. was now officially out of its double-dip recession, as gross domestic product growth during the third quarter, fueled by the Olympics, rose by 1%, the fastest pace in almost five years. Then initial claims data gave some hope that there may be a reversal to last week's sharp surge. Concurrently, better than expected durable goods orders gave some indications that end demand is still holding on. Even pending home sales, which although not increasing as expected, still inched higher and remains at fairly strong levels. However, the market started to drift lower, as investors appear to be getting flash backs of the rather poor revenue expectations that have been developing so far during this earning season.
It is apparent that investors feel unsecure about the future, as companies continue to provide less than expected revenue outlooks. Then there is the rumor that Fitch would be downgrading the US (not likely given the election is only two weeks away). Perhaps this should have already been built into stock prices given the mounting evidence of slowing growth around the world, but it is likely that hope for quantitative easing in major economies has been the opposing force keeping stocks higher, but now that this is well in the past coupled with the increasing realization that these quantitative easing efforts may not have the results that they were intended to have, investors are now looking at company revenue guidance with a microscope and not liking what they see.
In sum, today's session is looking just as it did yesterday, that is a strong start followed by a slow decline into the close. After the bell today, we have financial results from Apple, and tomorrow we have GDP and Michigan Sentiment, all of which can shake the market in either direction. Hang on ladies and gents; it is going to be a rough ride!
Home Sales Lose That Lovin' Feeling
David Urani
September pending home sales were up 0.3% month to month, according to the National Association of Realtors. An improvement, but certainly not a clear step higher, which is what the Street has started to expect to an extent. Homebuilders have turned negative as a result today, which comes after yesterday's new home sales result that was also lukewarm. Together, the reports suggest that the strong housing rally that's been taking place for several months is leveling off a bit, at least for now.
In a way, you can't blame home demand for being dented considering all of the hints of slowing demand in this quarter's earnings season throughout all economic sectors. Nevertheless, even if demand has decelerated a bit housing remains a bright spot in America and the supply/demand dynamics continue to look favorable for the long term.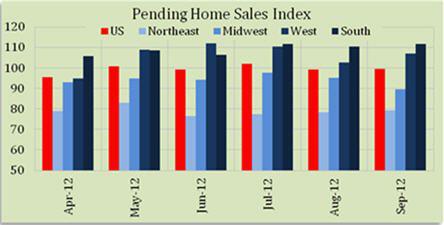 Home builder Ryland Group (NYSE:RYL) reflected the reawakening housing market in its 3Q result today which showed a 44.3% increase in revenue, along with an increase in homebuilding gross margin to 20.0% from 18.7% quarter to quarter.

Nevertheless, the Dow Jones US Home Construction Index is down a full 2.7% on the day as home sales aren't living up to the hype. Long term potential continues to look favorable but housing stocks have been noticeably shaky for the last month and a half, having double topped with their momentum pricing being questioned.

Slip And Slide
David Silver
When someone says slip and slide, I think about that toy (for lack of a better term) that came out during the summer back in the day. You take a running start, jump on the slide part and slip your way down into a pool. I remember thinking it was always a good day when that came out of the garage. Looking back at it now, I must have been crazy to sprint across the yard and slide on the ground with a thin piece of plastic between me and numerous scrapes and bruises. Now, the new Bud Light Lime commercial comes to mind.
Anyway, back to things that actually matter. Earnings have been rolling in and stocks have been slipping and sliding, and normally not in a fun way. The actual EPS number is still important, but if you miss on the top line, down you go. If your expectations are for continued slowing, you're going down even faster. Of our open positions, we had five stocks report after the close yesterday and before the bell this morning.
The mining company released earnings after the bell yesterday, and the results were not pretty. The price of seaborne iron ore fell 36% to an average $112 a metric ton in the quarter, compared with $176 a year earlier. Management lowered its spot price outlook 12% to $128 from its July forecast of $145 a ton. Steel makers have indicated that utilization rates continue to decline, falling to 75% from 76% year over year, with capacity utilization plunging to 70% in October from 81% in April.

CROX reported earnings that actually surpassed expectations on the bottom line, but still the stock is getting hit hard. Revenues came up short of expectations as a result of a weak Europe wholesale result. Retail sales increased across the board, and management expects Asia to become the largest segment by the end of the year. Margins actually improved year over year. However, the kicker was that management lowered revenue expectations and guided for a breakeven quarter.

In a nice change of pace, Symantec reported second quarter results that surpassed expectations on both the top and bottom lines. And the icing on the cake was that management actually raised expectations. I know, it is unheard of in today's market. New CEO Steve Bennett is putting his footprint on the Company after taking over in July. SYMC has been trying to cut costs, but management is targeting some areas of key investment for developing new customers moving forward.

Freight railroads have been reporting soft coal volumes which have pressured most rail companies' stocks; however, we like the suppliers of that industry. Trinity is a big player in the space, and saw its profit nearly double year over year. TRN fell short on the top line, but one of the biggest bright spots is the railcar backlog, with new orders for 4,865 railcars during the quarter, bringing the backlog to 31,330 units valued at a record level of $3.3 billion.

POT
Back on October 17, POT lowered its expectations to the "low end" of its previous $0.70 to $0.90 range. The Company lowered expectations for its earnings per share and its shipments despite being in a bullish industry. We like the industry, but the Company is seeing margin erosion and not seeing the type of pricing power it had enjoyed in the past.