Equity markets were off to an encouraging start at the open of the trading session, with the Dow Jones Industrial Average climbing close to 50 points. However, this uptrend was short lived as news from Europe served to spook investors just a bit over an hour into the session, putting the Dow in the red over 60 points.
The culprit for today's downfall was news that European Union ministers are now delaying the decision to provide the aid Greeks so desperately need. Even after having passed the Austerity plans required to get the next tranche of aid, Greece will now have to sit tight and wait longer until its European partners sign off the release of the aid, which was expected to occur next Monday. Germany's Finance Minister Wolfgang Schaeuble said the euro zone is not yet in a position to make a decision on releasing the funds, as many in Greeks had hoped.
On a more positive side, the U.S. trade deficit increased less than expected in September, as exports increased at a faster pace than imports, perhaps serving to give an indication that overall demand may have bottomed and is now on the rise. According to the Commerce Department, the trade deficit decreased 5.13 percent to $41.5 billion in September from the $43.8 billion reached in the prior month, landing well below the Street's estimate of $45.0 billion. It was rather encouraging to see that both imports and exports climbed, in particular that exports rose faster than imports. In terms of the two main components, exports increased 3.10 percent to $187.0 billion, as overseas demand ramped higher for industrial supplies and materials; foods, feeds, and beverages; consumer goods; and capital goods. Imports rose 1.50 percent to $228.5 billion, as domestic demand increased for consumer goods; industrial supplies and materials; and capital goods. While Europe's debt crisis and China's slowing growth are still headwinds to net exports in general, increasing demand from our neighbors south of the border may be serving to ease pressures from across the Atlantic. Moreover, demand here at home is also holding strong as the job market stabilizes, boosting the inflow of goods made abroad as retailers restock in advance of the year-end holidays.
In all, stocks are continuing to slide with nothing to prevent them from slowly sinking lower. While all signs were encouraging this morning with better than expected initial claims data and encouraging net export results, the high focus on Greece is making markets volatile once again.
Golden Arches Flatten Out
David Silver
Can you remember something you haven't done since 2003? I just sat there trying to think of something I haven't done since that time, and I was having some serious trouble (besides flipping my cell phone). In total, McDonald's comp sales (sales at stores open longer than 13 months) decreased 1.8% worldwide compared to the Street's 1.8% forecast. Comps declined across the world as well, with the U.S. and Europe falling 2.2% each, while Asia, Middle East, and Africa saw sales declined 2.4% compared to October of 2011. Management indicated the Company was up against difficult comparisons.
After being the only good show in town for a while, Mickey D's competitors are coming around. Longtime rivals such as Burger King (BKW) and Wendy's Co. (NYSE:WEN) are reviving their brands with improved menus and new TV ad campaigns (Wendy's even has a "new" logo). WEN reported strong earnings this morning as well. While Taco Bell, owned by Yum Brands (NYSE:YUM), is also enjoying growth with the help of new offerings such as it Doritos Locos Tacos and higher-end Cantina Bell bowls and burritos.
Additionally, people are increasingly moving up the chain to restaurants such as Chipotle Mexican Grill Inc. (NYSE:CMG) and Panera Bread Co. (NASDAQ:PNRA), which offer higher quality food for a little more money. The broader fast-food marketplace has been undergoing changes over the past several years as well, with the rise of chains such as Subway and Starbucks (NASDAQ:SBUX).
There is an interesting confluence going on in the fast food industry. First you have higher costs which essentially are wrecking margins on the lost cost options such as McDonald's Dollar Menu, which had to take the small fries off the Dollar Menu because of high costs. While at the same time, McDonald's is seeing its market share eaten into (no pun intended, I promise) by the higher cost providers like PNRA and CMG. MCD's management team has its work cut out for them; however, that being said, judging by the following chart, I think a decline once since 2003 is allowable.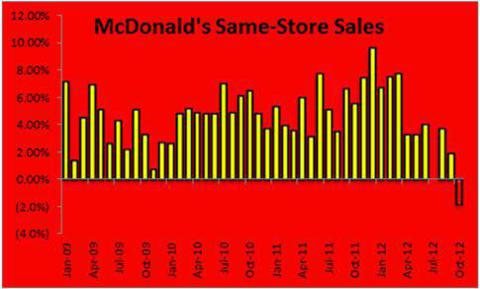 Trade Balance Details
David Urani
The US trade deficit managed to narrow in September to $41.5 billion from $43.8 billion, and was below expectations of a rise to $45.0 billion. A lower than expected trade deficit always has positive implications on the domestic economy, given that it means GDP readings are likely to be revised up (because a higher proportion of American consumption was also produced here).
What was extra favorable about the data was that global trade also increased at the same time, with both imports and exports rising. Imports were up 1.5%, and this follows five consecutive months of declines. Exports, meanwhile, were up 3.1% following two consecutive declines. Exports to Europe remained flat, understandably.
And get this, exports are at a record high. Energy was a major driver, with petroleum exports up $2.1 billion. That helped to drive the overall trade deficit to its lowest level since December 2010.